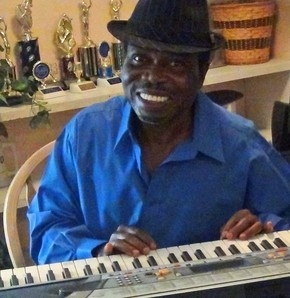 Hello to readers all over the world today. I want to wish you all peace, prosperity, and good health on this day. Even if you do not celebrate Christmas, it is always nice to take a break and reflect on life and count your blessings. The holiday should not be about materialiasm and credit card debt but on love & family. Now back to the music and first I want to talk about Beyonce. I thought that by her releasing her album by surprise last week was really innovative. But, I think she should have included all digital music retailers instead of just I-Tunes. Nonetheless when you have the clout of Beyonce you can call the shots. I am always fascinated on how technology and social media have shifted control from major labels to the musicians. Businessweek has a great article on the new business of music which I suggest you read – CLICK HERE! Now lets get to my guest today by the name of Godswill Ogbanga. Music must be real & authentic to the creator to truly touch the people. Godswill has the story and sound that do both. There are many struggling out there and Godswill music is uplifting and real, all I needed to hear was "I Need A Vacation" and "Jammin" and I am a fan. Join us on this holy day to speak with Godswill Ogbanga about his struggle, the life of Nelson Mandela, his love for his older sister, and so much more!
Stoli: Where are we talking from today and what are your plans for Christmas & New Years?
Godswill: We are talking from my home in Lake Charles, Louisiana. I hope to enjoy Christmas and New Year's at home with my family.
Stoli: 2014 is under one month away. What are you looking forward to any goals you want to reach?
Godswill: I am looking forward to getting my music produced and traveling around the world, performing and bringing joy to the hearts of people.
 
Stoli: When I read your Bio I shed a tear. Please let readers know your struggle and how that brought you to music?
Godswill: I had a Bachelors degree in Environmental Health and a Masters degree in City Management, worked as a Sanitarian for fifteen years. I quit my job and opened a business, got sick and lost my life's savings. Two months later, a car accident complicated my disability. One month after that, I lost my very dear twin brother.
My father, who died five days before my birth with my twin brother, was good at composing songs. My life as a songwriter and singer started in my dreams after our mother told us of his talent. Writing songs and singing seem to keep me in contact with our father who my twin brother and I never had the pleasure of meeting.  
Stoli: Is Godswill Ogbanga your real name and explain what you mean by "Godswill" and how that relates to your life & music?
Godswill: My real name is God'swill Ogbanga. It was the only explanation to a very dear father dying five days before his beloved twins were born. It is also the same explanation that I have for my situations. It is God'swill that I make good music to bring joy to the hearts of people around the world.
Stoli: I was expecting your music to be more down but I found it to be fun & uptempo. At what age did you really grasp the sound as a musician and how you wanted to sound?
Godswill: There is nothing pleasant about being sad. I really enjoy seeing people happy. I cannot recall when I started singing in my dreams. It got so frequent in my thirties that I started writing them down. I had no control on how I wanted to sound. I only sang the tunes I perceived.
Stoli: This week we celebrated the life of Nelson Mandela. What does that man mean to you and what can the people take from his life & legacy?
Godswill: He was a man who identified his life's purpose and was willing to sacrifice everything, even his life, to achieve it. Our ideals should not be based only on self love, but also on love for all humanity. Let us love each other.
Stoli: I am listening to your seven track CD here and I love it. Explain this collection of music and will you release it on iTunes or Amazon?
Godswill: All but one of those songs, Thank You Loving Sister, deal with every day life's struggles of the common man. "Thank You Loving Sister" is a memorial to my older sister who helped in taking care of me and my twin brother.
Stoli: I work everyday and go through the work routine like most people. I love your song "I Need A Vacation." What inspired you to write that song and where would you love to go on vacation?
Godswill: Imagine working so hard each day and sometimes, working two jobs, and finding out at month's end that you did not earn enough to pay your basic bills. Sad, isn't it? A lot of people can identify with that.   When I wrote the song, I wanted to go on an African safari. I would love a quiet vacation in Alaska this time.
Stoli: What other musicians do you work with when you are in-studio or playing live?
Godswill: I am not yet close to any other musician. I would love to be introduced to some.
Stoli: People are hurting out there and going through tough times globally. Talk about how you get up everyday inspired and face life head on no matter your past?
Godswill: My past did not diminish my faith in God.   His will prevails. I do my best each day and pray for the opportunity to be of service to humanity.   Our Creator always makes the final decision so there is no need to worry.
Stoli: When I listen to your music I want to drink a Guinness… Is that okay with you?
Godswill: Thank you. Please drink a Guinness. It is my favorite beer.
Stoli: What is coming up for you Godswill Ogbanga and where you @ online?
My Web site will be completed soon. Thank you so much for giving me the opportunity to talk with you.
http://www.youtube.com/channel/UCYGhOhLu98QGbopszyyw9UQ/videos