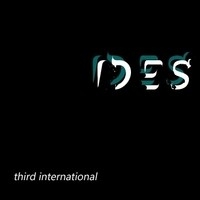 The politically & socially-conscious unit Third International is back with their first ever live production titled 'IDES'.   Fronted by songsmith Andrew Pearson, the new release features four songs along with an "Intro" ("Criminal Cool") & outro theme ("Letter to a Muse").   'IDES' was filmed and recorded on March 15th, 2013 at Pearson's newly renovated Calicut Studios in New Jersey.   Besides recording & producing the in-studio videos, Pearson also handles vocals, guitars & synthesizers.   The Third International lineup also includes: Bill Foster on bass & Derek McKenzie on drums and this current project also added two new additions: Enrique Mancia on bass & Jun Nishijima on drums.   Together, Third International is making studio magic with IDES where you're getting one cool jam session that is in the zone!
The four tracks include: "Timekeeper's Waltz", "Amsterdam", "Living on the Sun" and "Caudillo" and they are all featured on previous albums.   "Timekeeper's Waltz" & "Amsterdam" are included on the record 'Beautiful Accident' and "Living on the Sun" & "Caudillo" are part of the album 'Entre Las Americas' (http://www.skopemag.com/2012/05/09/third-international-entre-las-americas).   But the beauty of 'IDES' is that Third International recorded & filmed these songs live at Pearson's Calicut Studios breathing new & invigorating life into the numbers.   I have to say that watching these performances on DVD really added a whole new dimension to the Third International aura.   The visual element seemed to further enhance the listening experience by appealing to all senses.   You don't just get to hear Andrew's piercing, deep 'n' direct lyrics but you can see him sing the lines complete with dark 'n' stylish sunglasses.     And you don't just hear those killer guitar riffs & chords but you can now see the mighty guitar in all its glory with Andrew Pearson playin' his heart out!  
IDES ( excerpts from the DVD )
http://www.youtube.com/watch?v=3D3r92WzdwM
The video starts out with a perfect "Into" that really gets the viewer pumped up early on and interested to see what's coming up next.   On the song "Amsterdam", one will hear an extremely trippy, slow and melodic sound with guitar playing that will put you in a trance.   On this track, I can't help but think of the masters of the slowed-down tempo Pink Floyd where Third International is definitely incorporating a bit of that Pink Floyd style.   On top of that, Third International utilizes other famous elements from the likes of Pink Floyd, which includes a progressive, psychedelic sound.   Besides that, the audience will also hear elements of: blues, alternative & indie rock along with some highly poetic lyrics from Pearson that would make Bob Dylan proud.   One of my favorite performances on 'IDES' has to be "Living on the Sun" due to the fact that the song had such an infectious beat & rhythm.   Additionally, this track had a bass line that was simply on fire and the overall playing was in sync.   "Living on the Sun", to me, seemed to have that special quality & certain something where you could really sense a deep connection being made both musically & artistically between all members of Third International.   I personally loved how 'IDES' ended the DVD with the outro "Letter to a Muse" because the group set the tone and the mood through the music being played in the background and the powerful image of the guitar.   The guitar just sitting there on display as the main star with smoke rising up above it gave off a very mystic vibe and proved to be visually stunning.    
So in the end, the man behind Third International who gave you "Acid Swamp" and thought-provoking lyrics continues to bring the noise on 'IDES'.   The actual release date for this project is set for none other than Christmas day, so Merry Christmas indeed to Third International and all their fans!   This will be available to purchase very soon as a DVD/CD combo pack and one that should definitely be in your collection.   So be on the lookout for that as I highly recommend Third International's 'IDES'; you won't be disappointed.   All of the hard work in the studio comes alive on 'IDES' where Third International captured live magic on film.   And don't forget to check out the YouTube video for excerpts from the live/in-studio DVD right here!
http://www.thethirdinternational.com
http://www.reverbnation.com/thethirdinternational  
5/5 Skopes
Merry Christmas & Happy Holidays!
By Jimmy Rae+ (jrae2@att.net)