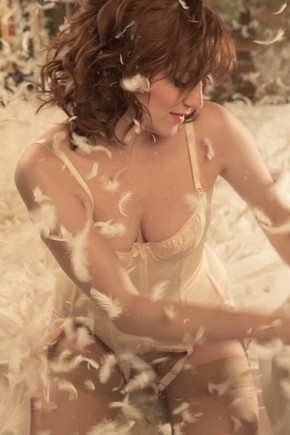 V&V aren't your typical pub-crawler indie fare. With their fiery redhead's brand of equal parts wit and venom, audiences around London have quickly embraced this quirky yet ferocious band. Across the pond here in the U.S. we are just discovering Vita and the Vicious. So without further ado…
Skope: Tell us a little about Vita and the Vicious, is there a philosophy behind the band or it's name? What are you guys about?
Vita: We wanted it to be clear that our sound was not laid-back, mellow or unchallenging, but driven and 'vicious' in the sense of it being infectious and relentless in a hard to ignore way! We are about the balance between keeping things ironic and tongue-in-cheek, and also exploring genuine emotions. Couple that with catchy melodies and you have us in a nutshell. I guess, in that way, we'd welcome comparisons to bands such as Pulp or The Killers. It's not about trying to be clever or pretentious, although we like think we make witty, intelligent music in the great tradition of pop/rock.
Skope: You've recently entered a contest, what can Skope readers do to help you win it?
Vita: we need our Vipers to like us on our Made in Shoreditch page, which is here: http://madeinshoreditch.co.uk/2013/09/18/made-in-shoreditch-music-factory-vita-and-the-vicious/, and tweet, share and retweet about it as much as possible!
Skope: How would you describe your sound and what makes you stand out from the crowd?
Vita: Defining our sound is always tough, and it's something we like to ask our fans because we can get too close to it… Although that can sometimes be more confusing that enlightening as we've had answers ranging from Florence + The Machine and The Vaccines to Blondie and The Ramones! I hope what makes us stand out is the quality of our material and performance. Also our energy – certainly as a 'live' band.
Skope: Hailing from London, what's the scene like for a band such as Vita and the Vicious?
Vita: It's great – a city of music lovers. The gig circuit is immense. Our fans are a diverse bunch, from all walks of life and of varying ages. It comes back to having solid songs and being committed to putting on a great show. Vipers are a mixed and appreciative bunch!
Skope: Is there an official site for all things Vita?
Vita: Indeed there is: http://www.vitaandthevicious.co.uk/ and our Facebook page is here: http://www.facebook.com/VitaandtheVicious?ref=hl
Skope: You're single "Bender" is seems to be everywhere on the web, can you tell us what the song is about? Personal story or fabricated entertainment?
Vita: Haha. Oooh that would be telling. Nah, Bender is about something I think we can all relate to – the human impulse to turn to hedonism when things get rough or relationships end. When we're fooling ourselves that the 'one more drink' or the absolutely unsuitable man/woman we're seeing is actually a really good choice rather than the desperate act of someone in utter free fall.
Skope: Aside from Bender, do you have an album or e.p. coming out?
Vita: We are about seventy percent through recording our debut album. We have all the songs written and we're even working on material for the next album, but we had a line-up change earlier in the year that put us back. We're all raring to get into the studio next month though, and we've another video shoot lined up for November.  
Skope: Any plans to come across the pond to the U.S.?
Vita: We can't wait to tour! I love America I've had some of the best times there especially Vegas, where I have A LOT of great friends! When we're ready we'll invade for sure!
Skope: Who are some of your biggest influences and what made you decide to start up a band?
Vita: Influences are so diverse from 90's indie like Suede, Pulp and Sleeper, to real 'girl rock' like Joan Jet and Beth Ditto. My personal pop rock hero is Debbie Harry and *EEK* our new drummer met her a few times. I'm also partial to a bit of sleazy pop in the Garbage and Depeche Mode vein. You could probably tell we have a Depeche Mode fetish, given that we covered one of their songs. Basically anything emotionally and musically honest, with great lyrics and melody, and I'm there.
Skope: Anything particularly insightful that you'd like to let our readers know? What's the craziest thing that's happened while performing?
Vita: Don't know about insightful, but my philosophy is always make your own mistakes. That way you've no one to blame but yourself if things go wrong, and you can feel proud if they work out. Craziest thing that happened while performing is that we were once almost electrocuted playing a Cambridge University Summer Ball because we refused to leave the uncovered stage despite torrential rain. It was mid song and the crowd were going crazy so we wanted to at least let them dance to the end of the track! Eventually the sound guy pulled the plug on us. Haha!
Skope: Speaking of performing, what can audiences expect from a live show from Vita and the Vicious? With a name like that, I picture a high energy performance with a serious biting edge… am I close or…?
Vita: Yes indeed. High energy, loud, cheeky and sultry. We like to have a good time ourselves, and part of that is engaging the audience and giving them a night to remember.
Be sure to check out the single "Bender" on YouTube and stick around for some amazing things to come from this talented bunch of Brits – http://www.youtube.com/watch?v=xQvLhLPK0oQ.
http://vitaandthevicious.co.uk
Douglas Garnett – douglas.garnett@gmail.com – http://digdugdisaster.com