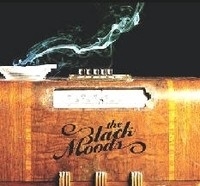 Over the years we've seen rock, pop, and even hard rock slowly erode into over-commercialized, corporate puppet shows providing music that is extremely sing songy, predictable, popish and highly corporate. I hereby call this new breed of music "Poser Rock" and I want to personally thank all the corporate giants for successfully transforming "Sex Drugs & Rock n' Roll" into "Yoga, Vitamins and Nikelback" Of course millions of musical lemmings don't know the difference and trust me when I say not everyone is entertained. Talking to many music fans out there the response is overwhelming. Give me something new, something fresh, something real. So across my desk slides the new CD by The Black Moods (self-titled) a 3 piece band that hails from Phoenix, Arizona. Band members are: Joshua Kennedy (Guitars, vocals), Chico Diaz (Drums), Ryan Prier (Bass). These recordings showcase the best in old school rock n' roll with a modern day approach. From upbeat, musically-involved pieces to simple, minimalist moody tracks, to full on grooves all contained therein, this latest CD by The Black Moods presents an action packed collection of songs — 10 of them in-fact.   It may not be the most modern sounding collection of music to digest, but its rewards are manifold in today's market. At the center of each piece and every arrangement is an effective, if often simple rocked out melodies. These songs find a band like The Black Moods channeling (rather than being inspired or influenced by) a wide array popular-music-history's critically renowned American classics like Derek Tucker Band, Tedeschi Trucks Band, Faces, The Average White Band and Allman Brothers. When I spun this CD I must admit what I heard put a smile on my face and had me wanting to go to the nearest bar and start a brawl. The first few tracks really kick things off in high gear "Can't Sleep at Night", "Serves You Right", and "Give it to Me" It's a nice easy flowing record that delivers solid songwriting with a nice rocking feel to it. The Black Moods also reminds me a bit of a modern-day version of Foghat. You will also hear a side of Alternative Rock, Rocking-Blues, and even straight up Hard Rock along the way. The CD doesn't back down and hits solid stride by Track 6 "Hey You" through to Track 10' Judge Me." If you like the above bands you should definitely check out this CD.
My favorite track is probably "Like a Wave" and "Torn up Dress" and "Don't Let Them Get You Down."
Conclusion: This CD from The Black Moods is invigorating. Invigorating in the sense that it will lift your spirits, and give you a sense of hope that real rock n' roll is not officially pronounced dead yet. It's is a rock solid release with many solid grooves with a guitar driven sound that will entertaining many. The Black Moods are one band that gives us a fresh glimpse of what good rock music is supposed to sound like and takes us back a few years — before everything started sounding like — well like NIKELBACK.
Genre: Alternative Rock, Classic Rock
Rating: 4.5/5 Stars
Website: http://theblackmoods.com/
 
Reviewed by: Sonja Carter
Edited by: J.J. McCall
Review comments: indiemindymccall@gmail.com