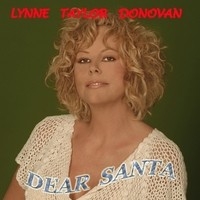 Just in time for Christmas, Lynne Taylor Donovan delivers to us "Dear Santa".   The song is definitely festive in nature however this track is not your conventional Christmas tune.   Reason being is because Lynne uses Jolly St. Nick as background in order to get a crucial message across.   That important memo is that the Christmas season is not about buying presents and how much a person spends but more importantly it's really just about loving one another.   Lynne's list to Santa doesn't include items that you can physically touch but does contain intangible requests that Donovan holds true to her heart in which could touch others.   It is the gift of love that Lynne desperately wants when she wakes up Christmas morning, so hopefully Santa can come through for her.   It's safe to say that Lynne's request is a real gift that keeps on giving.   One of the lyrics in the song and one that I particularly like says: "Wrap your love up under the tree" and I feel that says it all right there.
"Dear Santa"
https://www.youtube.com/watch?v=TpMnswk5er4
Lynne is no stranger to the music scene as she is a seasoned vet in the country music circle.   Hailing from Canada, Donovan has been going strong since the 80s back when she was just a teenager.   She has even opened up for such big acts as: Alan Jackson, Wynnona Judd & Loretta Lynn along with touring with The Nitty Gritty Dirt Band.   The "Dear Santa" single was actually released in 2009 shooting to #16 in the UK/EU TOP 40 and #12 on the indie chart that same year.   The song proves to be timeless for Lynne so why not re-release it and promote it especially with Dec. 25 fastly approaching.   Plus, who can't use a little joyful cheer during the Christmas season.   It is a time of giving not of "things" but of oneself.  
I have to say that vocally, Lynne shined through on "Dear Santa" and the musical approach really nailed that holiday spirit.   But in the end it's the words that steal the show here and according to LTD "Love, light and peace" is really all we need from Santa this year.   The rest is history!
http://www.lynnetaylordonovan.com/
4.5/5 Skopes
By Jimmy Rae (jrae2@att.net)