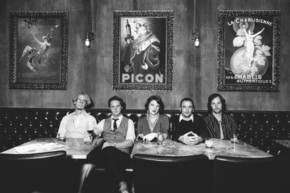 The unique Indie folk-rock-pop band Fierce Bad Rabbit is a breath of freshness into the industry' live music scene.   There are no 2 songs exactly the same and while styles maybe raw they are authentic. Fierce Bad Rabbit consists of a blend of musical styles with the common thread of being live all the way through. Whether it be the drum patterns, precise guitar licks, kicking bass or viola injections there is one phrase that sums it up. That being a sound that is a musical stew that brings joy to the ear.
Like the Campbell's soup commercial states, it is so good that one doesn't want to rush. This band has found a way to create music that you wish to savor every morsel, every sound, every note, every lyric every harmony and every arrangement.   Just like an old school record there is no jumping from track to track when it comes to the music of FBR, you'll want to flow through every tune.
The FBR band consists of Chris Anderson (lead vocals, guitar), Alana Rolfe (viola, vocals), Dayton Hicks (bass guitar), Max Barcelow (drums/percussion/vocals), and most recently, Nathaniel Marshall (keys/guitar). Fierce Bad Rabbit has released three albums, Spools of Thread in October 2010, Live and Learn EP in November 2011, and most recently, The Maestro and The Elephant. The band has toured nationally and will be recording next as a five piece ensemble.
One of my favorites is Live and Learn from their second debut EP which has catchy lyrics such as "breaking up the pieces" and "live and learn to let go." This tune has a fun edge to it with build ups that make you want to throw your hair back and party like a college star.   However their latest release The Maestro and the Elephant is not just any CD but a fifteen song album which reflects passion and perfection. FBR has captured colorful, visual poetic soundtracks pertaining to human relationships. Each track is a stand-alone piece of musical art. Every song speaks to your spirit on a different level. It's almost as if you the listener is experiencing a journey about human love with all the elements that either make it work by unification or fragmentation.
"You"
http://www.youtube.com/watch?v=MtMfAGbDH4I
Songs such as Wildflowers which is a play on words has a hippie vibe. Shine A Light has a shadow of a John Lennon signature with visual soothing percussion surprises.   Matter of Time is another modern day Beetles feel tune with instrumental injections and harmonies. When All You Got is Worry-Let Go with its dominant guitar licks, whistles, drum patterns and vocal arrangements creates a love atmosphere which lifts your spirits. "Worry worry always in a hurry…it turns out its fine in the end." I must say this is cleverly laid out. Until We Are Dust begins with Alana's melodic vocals and then builds with interplay between the sexes and the instruments.   Lyrics are on point.   Carry On with strong drums and strings tells the story of the human spirit and how no matter what we are go through we must carry on.
The title track The Maestro and the Elephant with its eloquent piano and string orchestration gives the illusion that you are at a Symphony.   Here's Looking at You can easily be a film soundtrack. "Broken bottles on the floor. Everyone's fault somehow." This track is relatable in a number of aspects in reference to relationships fragmenting. Better Days is a story which pulls you out of a slump and into a sphere of hope. One can easily escape to a Louisiana porch filled with blues music with slick harmonies, guitar licks and poignant viola snips that blend together therefore creating part of that FBR folksy blues sound.
Beliefs   with candid lyrics such as "these days feel just like survival knowing who is your friend or your rival…Don't you know it's hard to see we all have our beliefs." This song echoes melodic truth with rhythmic orchestral breakdowns. Time Machine captures the concept of time with snapshot lyrics such as "Wake me in a dream, take me to the lights. If I could see myself twenty years from now what would I say. Did you love me?" In addition to the messages with word play the musical arrangements are just as poetic thereby creating a travelling atmosphere. Shooting Stars essence is a feeling of finality with a very "space drifting" vibration ending with lines such as "we are like shooting stars." It is a positive just being state of mind. This is a perfect way to end an album where the listeners have been taken on a musical journey of relationship realities and possibilities. Well done FBR. They receive a 5 out 5 star rating.
 
Fierce Bad Rabbit have most definitely revolutionized the live music scene with their unique authentic sound. For further info www.fiercebad.com.
https://www.facebook.com/fiercebadrabbitmusic
LA Virgil – lavirgil2010@gmail.com – http://www.hismultimediaintl.com