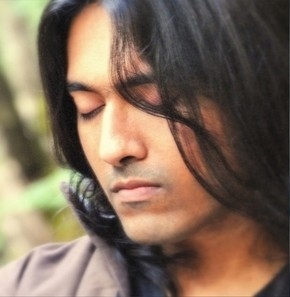 Whether literally, idealistically or metaphorically; sometimes it all begins with a dream.
Such was the case when Sonaljit found himself in a mythical landscape, gazing at incredible forces of nature at work. "In my dream I was standing by the edge of a cliff staring at a blue planet surrounded by clouds and a distant star," Sonaljit recalls. "All of a sudden that star exploded and turned into a brilliant fireball. I remember telling myself that 'this will be something I will see for real in my afterlife.'"
Buy: http://paltip.com/skopeing/!2psay
While the dream stayed with him, it was during his undergrad years that Sonaljit began taking part in music shows with friends. As a vocalist, he decided to delve further into music teaching himself keyboard and musical arrangement. "I started playing during those undergrad years in India and it took me about five to six years to learn to play keyboard," he said. He soon returned to his dream and decided to put music to it.
Heavily influenced by the New Age genre, Sonaljit started mixing his native Indian music with Western influences as well as myriad ethnic facets and instrumentation. "I try to think of a tune on the keyboard and I record that tune," Sonaljit said. "After that is recorded I go back and try to add different instruments. I might go back and add a violin or add a guitar or use wind instruments. I think I am inclined to more cinematic orchestra music but I try to incorporate different instruments and ethnic musical styles with that."
With his self-taught musical foundation, he traveled to the United States to continue his education but was simultaneously amassing equipment for a small at-home studio, all the while drawing inspiration from other dreams, ideas and experiences to lay music to. "So after I composed "Dreaming The Afterlife and having one composition, I thought why not make seven more compositions and make it into an album?"
Dreaming the Afterlife (Album Promo Video)
http://www.youtube.com/watch?v=vQV5vVGotVc
From track to track, the listener becomes enveloped in a cacophony of lush layers of sound. Driven predominantly by keys (whether melody or foundation to the accompanying instrumentation). Sonaljit describes the album as: "a collection of contemporary new age instrumentals with a blend of symphonic orchestral flavor with ethnic fusion." Take the title track "Dreaming The Afterlife" with its atmospheric intro of keys and electronically generated clicks and clanks. The arrangement is driven by the keys foundation before Japanese Shakuhachi flute commands the lead of the melody. Or the urgent ushering in of "Colors of the World" which ushers forth an orchestra worth of ethnic instrumentation including the koto, Duduk flute, dulcimer and Peruvian Cajon for basic beats. The amalgam of instruments coinciding (versus clashing) illustrates Sonaljit's understanding of composition and instrumental harmony as well as his desire to bring to light the use of different types of ethnic instrumentation.
While, Dreaming The Afterlife is a focus in the here and now he admitted that he isn't resting on his laurels simply because he finally has an album under his belt. "I was to pursue this and see where it takes me," he said in closing. "I am already working on the compositions for the next album. But considering that I started out as a singer I would like to try to add vocals to the tracks on this next one."
https://www.facebook.com/sonaljit
Christopher West – cwestlaz@gmail.com