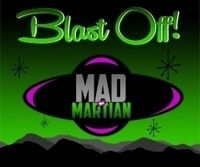 Mad the Martian is a band consisting of brothers Bob & Jack Marsh and their trusty producer Anthony Resta. These guys locked themselves up in a studio north of Boston, where they poured a reported 1300 hours into generating the album Blast Off: "13 tracks of fresh future/classic rock n' roll tunes."
"C'mon, C'mon, C'mon" is a track that's as jumpy and energetic as its title. The vocalist can climb some octaves. A jazzy saxophone solo only adds to the sonic energy. This song never really slows down. It just stops on a dime.
The track "Livin' Out Loud" is, ironically, quite a bit more chill than the previous track. I have to say this particular song has some nifty, engaging hooks. The chorus of "keep livin' out loud" is slightly infectious.
Some slick lead guitar work is rendered on "Lift Me Up."
The album's title track has more of a gritty rock n'roll feel. There's also a pretty engaging weirdness about this track. Some of the lyrics read like surrealist poetry: "Cool on contact, coat-check hat girl / Moon-beam blazer, trigger phaser." The chorus is far more accessible: "Ready, Set, Let's BLAST OFF"
More fun wackiness rears its head on the track "Stuff!" I believe this song is about all the instrumental gear that the band has accumulated. However, "Stuff!" could perhaps be social commentary.
It makes me think of all the holiday commercialism and the ongoing massive exodus to all the shopping malls.
"Floating" is kind of a soothing (almost slightly narcotic) track. It's got some subtle but snappy background guitar work.
The intro to "Return to Light" offers a strange assortment of sounds.
There's something kinda cute and creepy about the track "Strange Attraction." It seems the speaker is following around a special someone, gathering up the sack to approach her. For the moment, however, our speaker is lurking in the background: "I had to take her picture / I hope she didn't mind."
Less stalkish but every bit as passionate is the track "If Time Stood Still."
Throughout the album there is evidence of devoted guitar craftsmanship. The brothers Marsh are hardcore guitar geeks who "can talk about pedals and amps and tubes for hours."
They know their stuff, and there's something very clean and professional about this album here. I'm not the only one who thinks highly of it. These guys have been nominated for songwriters of the year. And here's the proof: http://www.theindiemusicchannel.com/songwriteralternativenominees.htm
So do you care to go otherworldly? Here's a launch pad: https://itunes.apple.com/us/album/blast-off/id730858880
Other intergalactic venues:
http://madthemartian.com/
https://soundcloud.com/ajax/sets/mtm-madthemartian-album/s-JzGig
Ray Cavanaugh – owleyesgatsby@yahoo.com