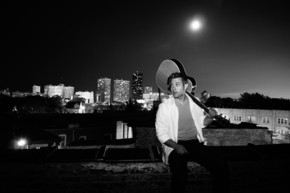 Hello everyone, I hope you are all doing well. For some reason the Thanksgiving week post is one of my favorite posts of the year here on Skope. I love the holidays, once that egg nog sets in and I begin to get reflect about all the awesome musicians that we have covered this year and we hope for another year of the same. Last Friday night, MTV Hive had Wild Cub live in NYC and online at their website. This streaming of live shows is truly here and this trend will only get bigger. I can envision a tour of a band I love playing live every night while I watch it in Boston, MA on my Roku in bed. Another exciting news piece is for the first time, the core copyright industries added over $1 trillion in value to the U.S. economy in a single year, accounting for almost 6.5% of the total U.S. GDP. That just shows how much value music rights  have and we must protect that while making it as accesible as possible. Now lets catch up with Owen Stevenson as he celebrates the holidays and his new EP in Chicago, IL. Owen is a talented musician with great music and a great story. We caught up with Owen to chat about his music education background, his Kickstarter funded 'The Edgewater EP', live music/cold beer in Chicago, and so much more!
Stoli: Where are we talking from today and when you look back on 2013 what are you most proud of?
 
Stevenson: Today we are talking from my apartment in Chicago, on a rare morning off!   Looking back on 2013, I'm most proud of taking the leap from working cruise ships for 5 years, to pursuing my original music full time on land.   I loved traveling the world on ships, but it was very limiting in terms of the demographic, and opportunities.
 
Stoli: You began playing music at three. How did your family help you pursue your passion for music and at what age did music become more than a hobby?
 
Stevenson: I was born into a musical family. My parents met doing musical theatre, and have both performed professionally their whole lives.   I really started to sing at church, where my dad was the director of music for 30 years.   My mom always reminds me of when I would improvise musicals, and operas when she drove me to elementary school.  
 
My parents were very influential and supportive when I decided to pursue music more seriously. When I was 9 years old, I started performing professionally as a charter member of the Children's Chorus of Washington, where I got to perform on a regular basis at places like the Kennedy Center, and Carnegie Hall, toured Italy, and learned a professional approach to music.
 
Stoli: Your impressive music education background from Blake High School to Indiana University's Jacobs School of Music. How did that help you sharpen your talents and also teach you about the business of music?
 
I was extremely lucky to have Blake High School as an option.   It is a public school, but also had a signature program for the arts.   I got to work with some great teachers, who helped me get into Indiana's Jacobs School of Music, which is always up there as one of the best in the country.   I studied classical voice at IU, and am very glad I got to learn all the music theory and ear training, but I didn't have the drive for classical music like I did for songwriting, and pop music.   What Indiana did, was give me the tools to know how to be able to perform 4 hours a night, 7 nights a week, and still be able to maintain my voice.   So often the DIY musician will burn out their voice trying to play enough to make a living.
 
At Indiana, I also got some great exposure to other genres while performing with The Singing Hoosiers, and the a cappella group Straight No Chaser.   I took music business classes as well, but it was the real world experience with SNC, and various groups that helped me prepare for doing things on my own after I graduated.
 
Stoli: I have your new EP 'The Edgewater EP' playing now and I am loving it. How long were you writing & recording this EP and where can we grab a copy?
 
Stevenson:   I took a short break from the cruise ship summer 2012, and came out to Chicago to lay down some of the tunes I had written with some friends from Indiana.   I hadn't recorded original material since 2007, and it just felt right to be back at it.  
 
I went back on the ship for one more contract, and wrote the last studio track "Where the Heart is", and then after about a year of total production, we released the EP in June, 2013
 
You can order a physical copy from CDBaby, and It's available for download on iTunes, CDBaby, Amazon, and you can stream it on Spotify and places like that too.
 
Stoli: This EP was funded thru a Kickstarter campaign. How does that feel to know that your fans are so loyal that they will help fund new music by you and what parts of the album process did that money cover from recording to marketing?
 
The Kickstarter Campaign was more than I ever could've imagined.   I had been away from so many of my friends and family while on the cruise ship, and was a little nervous that would have a negative affect.   But they came out in full force, and really gave me a boost in confidence (as well as money), to get my career on land back up and running.
 
It covered the production of the EP, as well as most costs for filming 4 live music videos out in Los Angeles.   Luckily I have some cousins out in LA who have a production company and donated their services in that way. We had so many people jump on board. Even if they didn't know me, they knew my cousins, and were more than willing to help out in any way possible.   It was one of the best feelings ever.
Miss Marshall Live At Monk Space:
http://www.youtube.com/watch?v=5x39e2Tuu8o
 
Stoli: I love the song "Miss Marshall." What is that song about and when did you write the lyrics?
 
Ha, I became friends with a girl on the ship named Louise Marshall, and always thought the name would be a cool hook to a song, so I wrote the hook, but the song isn't actually about her — I just used the name, and put it away for a while.   A year or so later, I got caught in a love triangle, and wrote some lyrics about it.   I felt the old music and hook fit the new lyrics, so I gave this girl in the love triangle a new identity as Miss Marshall.
 
Stoli: If I was to come kick it with you in Chicago, IL where would we go for cold beer and live music?
 
Stevenson: Well if you're coming to Chicago for a beer, you're in the right place.   I tasted a lot of different great beers on the ship around the world, and I've never been as happy as I am here with so many craft beers!   Goose Island Wrigleyville has both some great beer and live music, but my kick right now is Mothers Too down on Division St. in the Gold Coast.   I play there every Friday night, and have since found myself there most nights just for a good hang.
 
Stoli: What do you enjoy doing when you are not making music and do you work as well?
 
Stevenson:   I teach voice and guitar lessons a few days a week.   But outside of music, I am a huge sports fan.   I love all my hometown teams from back in DC — Orioles, Redskins, Caps, Wizards — but I'm also looking forward to following my new hometown teams out here in Chicago.
 
I played a lot of sports growing up — Baseball, basketball, golf, swimming.
 
Stoli: Millions of Americans are losing health insurance or seeing massive increases in premiums after Obama promised we can keep our plans. Do you think the ACA is about helping Americans or helping corporations and how does that make you feel as a citizen?
 
I fully support the ACA.   I wont lie and say it's perfect, or doesn't need improvement.   It does.   I will however say, it is providing the opportunity to millions of Americans to have access to healthcare for the first time since going off their parents insurance, or the first time ever.   I fall into that category, and am extremely excited to be able to play in rec sports leagues, and not worry about injuring myself and going broke from medical bills.   As a self-employed musician, catastrophic insurance is way out of my ballpark for price, and it wasn't even good coverage.  
 
Does it suck that some people were led to believe they could keep their coverage regardless of if things were changed? Yes, it sucks.   Would it have helped if people were better educated on the implementation of the ACA and Exchanges, absolutely.   Some states spent over $100 million dollars on educating their residents on the ACA, whereas other states have spent next to nothing… can you guess which states are having more problems and complaints?
 
I just feel very fortunate to be from Maryland and Illinois, where they have great exhanges and co-ops set up, and I can finally afford health insurance.
 
Lets stop bickering about whether we can repeal it, or keep it, and start molding it/ironing out the kinks.   Rant Over.
 
Stoli: Where do you turn these days to listen & discover music from Pandora, social media, TV, etc?
 
I definitely find music a variety of ways.   I know Radio isn't nearly as big as it used to be, but after not having one for 5 years on the ship, I've been listening to a lot more radio in the car.   I Shazaam things all the time, whether I'm in a restaurant, store, train, wherever, and I'll check it out online when I get home.   I've got Spotify Premium, which is an incredible to be able to pull songs up so quickly, and I definitely still buy the occasional physical CD when I'm sold on an artist.
 
Stoli: What is coming up for Owen Stevenson and where you @ online?
 
I'm excited to have a residency at Mother's Too, a fun bar in the Gold Coast, every Friday night.   And I play once a month as part of the R-Life Live series with Renaissance Hotels.   Definitely heading back into the studio soon with some musicians I've had some fun playing with here in Chicago, and I'll just keep trying to grow the fanbase, get my music out there to as many people as will listen. I'm on Facebook and twitter just like everyone.   One thing is for sure, I'm excited to be back on land and making things happen!
 
www.facebook.com/owenstevensonmusic
Twitter – @owencstevenson
www.owenstevenson.com
www.cdbaby.com/owenstevenson