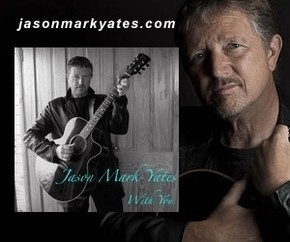 UK Songwriting Contest Finalist Jason Mark Yates isn't your typical singer/songwriter. The Adult Contemporary artist is making a name for himself with his soothing vocals and trademark acoustic arrangements. His song "Reachin' Out" impressed the judges enough to make him a finalist in the 2013 Songwriting Contest held in the U.K. His sound is smooth with a slight melancholy vibe with a little bit of a jazz underlying. His music could sit easily at home on the big screen as in intimate venues or just chillin' at home. He's also teamed up with songwriter Darcy Jeavons and the two have enjoyed the success of being a Semi-Finalist as duo Yates & Jeavons.
Skope: Tell us how you got started writing music?
Jason: I Was into music at about 5 years of age…and even then didnt want to copy anyone.
Skope: How would you describe your sound?
Jason: Mood music…almost always evoke's an emotion,…I like to connect on an emotional level.
Skope: What instruments do you play?
Jason: Acoustic guitar/Electric/Bass…and a little Sax
Skope: You're both a solo artist and part of the duo Yates & Jeavons, which is easier for you as a songwriter? I know some people need others to feed off and some prefer [like myself] to work alone usually.
Jason: I love working alone…and could till i die……But Darcy and I hit it off so well its a perfect fit.
Listen & Watch – http://www.youtube.com/user/jasbo555/videos
Skope: Do you perform regularly and where can people catch you playing live?
Jason: I have, but had a break to write some 100 plus songs over the past 18 months…..but i am rehearsing right now with another local Guy called Alex and we will be playing by the River in worcester in the spring at a hotel on Saturdays.
Skope: Who are some of your influences as a songwriter? What about guitar? Do you have any guitar heros as well?
Jason: Justin currie….great songwriter…also love Gordon Haskell….any what i call REAL songwriters.Guitar hero's ?…not really….but I love the guitar….is that strange ? I suppose anyone who makes the guitar feel.
Skope: How did you connect with Darcy Jeavons?
Jason: We met on a site for musicians and made each other cry with our music….so we thought we might as well cry together !….lol……and laugh of course.
Skope: Your lyrics sound intimate and personal, are your songs stories from your personal life?
Jason: Both imaginary and real….the feelings come from what i have felt…..and if it aint happenend….I have to imagine it.
Skope: Do you have an album coming anytime soon or are you focusing on writing singles as many are doing nowadays?
Jason: EP with Darcy called Shifting Sands….dont know when but it will be there at some point in the near future….but I will keep putting out singles.
Skope: Where can people find your music and get to know you a little better?
Jason: Check the website….I have a LINKS page….click on I tunes. My website has all my connections on it.
Make sure you check out Jason Mark Yates at http://www.jasonmarkyates.com
Douglas Garnett – douglas.garnett@gmail.com – http://digdugdisaster.com