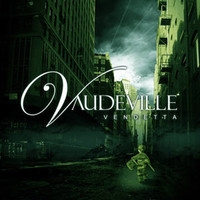 Forget everything you know about Sonny and Cher, Kenny and Dolly or (Ack!) Nick and Jessica. When it comes to performance hodge-podge one only need look back at the original variety show: Vaudeville. And much like the performance art of yore, the Minnesota band with the same moniker is doing right by it as evidenced with the variety musical facets on their new full-length, Vendetta.
"Tainted Passerby" opens to blistering electric laden with effects as the intro builds through to full sonic assault. The vocal lead of Christopher Gummerson takes the forefront and it spans a whispered lyrical delivery to upper range urgency. The rock element is the track ethos on this one but one can hear that multiple layers of sound are only a few tracks away. Thumping and chime electronica share tandem intro duties on title track "Vendetta" before the album pace is continued with urgency in the vocal and instrumental deliveries. This one is hallmarked by the vocal and guitar tandem; spiked with intricate fills and solo work. "Hide Away" opens to more dour electric and bass that bobs at the intro. Again, the vocal and electric tandem sits at the foreground before the eclipsing effect Gummerson has when his vocals soar to the ceiling of his range.   Slightly down-tempo from the prior, "Restless Souls" paints a darker sound that matches the equally dark track title. At this point in the album, it has become apparent that the rock leanings are heavier than the electronica appearances of prior album Dismantle The Sky. This one trudges through the musical progression relying on much of the electric wails and vocals while the rhythm section plods along faithfully. At the midpoint solo of this one, one can near hear the faint begging for mercy from the guitar work. Returning to the down-tempo is "V" which opens to melodic guitar at the opening and instrumentally, would fit nicely on Radiohead's "Hail To the Thief" (it also helps that Gummerson can croon in Yorke's range). The extended intro gives way to melodic vocal hums and the distorted chord progression at the electric and soaring harmonized backing vocals a la vintage Pink Floyd. Big sound, big instrumentation make this one anthemic even lacking vocals.
"VENDETTA"
http://www.youtube.com/watch?v=hU3KwAd60zY
Vaudeville's strengths lie in their strong composition, tight instrumentation and individual mucial command of said instrumentation. The vocal delivery is a standout facet as is the electric guitar work; but the album is complete when these veins meld with the whole of the band on each individual track. Clearly the addition of the right musicians alongside the "founding Chrisses" has created a solid sound and a group with vast sonic proportions.
Buy: http://paltip.com/skopeing/!2pl5w
by Chris West – cwestlaz@gmail.com
I give this 4/5 Skopes.