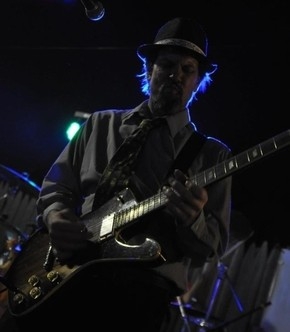 Dr. Wippit's music – you're not really sure what you're listening to at first listen. But then it hits you. Music doesn't always need to be defined by genre and stereotypes, music is a communication of the soul, of the body, heart and mind. Sometimes I just want to destroy categorization of music altogether, that's for marketers to sell product, not for a music lover. Dr. Wippit embraces just about every form of sound and incorporates it into a stew of what I can only describe as "happy accidents". It's punk, it's funk, it's noisy, it's world, rock, blues, jazz… think Ween on steroids. Zappa? Butthole Surfers? Most importantly, it's FUN! and not in an ironic way. This music was surely meant to be heard 'live'… and that brings us to the next curiousity that is Dr. Wippit. It's a one-man band.
"..there' isn't a "one man band" band out there right now that can go toe to toe with Dr Wippit insofar as vibe and pure musical mojo."
– Rory Richardson, Skope Mag (Feb 13, 2013)
Earlier this year brought us "An Anthology of Sorts" and now the good doctor is back in the studio recording something new… I'm here to find out what.
Skope: As I listen to your tracks I can't help but ask, how in the world do you pull this stuff off live?
Dr. Wippit: I spent about 15 years in different live bands, and that really is where my passion is at, but it can be tough to keep bands together when a few years go by and you haven't "made it" yet.   So the last few years I've been recording on my own, keeping my live chops up in a local cover band (Tastes Like Chicken).   Last year I decided to release some of these recordings and if I can generate some interest I know I can get a band together on short notice.   I did just recently get a loop pedal and started playing one man shows using the pedal for back up so I can play these songs live without too much missing.
Skope: Though you certainly don't sound like Ween or Zappa for that matter, would you consider them influencing you as an artist?  
Dr. Wippit: I would, and Butthole Surfers too.   What these guys have in common is that they take each song as a separate idea and figure out what the song sounds like without any preformed ideas based on what they think their band is supposed to sound like.   I think the Beatles inspired a lot of acts to go that route, and folks like Zappa, Ween, and Butthole take it to the extreme.
Skope: Instead of writing or creating inside the box, how do you get yourself into a mindset of total musical freedom?
Dr. Wippit: I think I've been fortunate that my previous bandmates have also been huge fans of outside of the box musicians, so when I sit down to write, whether it's with a keyboard, a guitar, or a drum machine, I really just let the song write itself and listen to where it wants to go.
"If You Could Read My Mind"
http://www.youtube.com/watch?v=XA6oNOfZFbI
Skope: How would you describe your music?
Dr. Wippit: Like you say labels make it really tough.   Eclectic?   Dynamic and Energetic I think is what I'm shooting for.  
Skope: Is there any sort of method or philosophy behind your sound, vibe, content?
Dr. Wippit: It's gotta sound like you mean it.   I think one thing I've had in common with most of the musicians I've worked with, it's that we like music that sounds real, you can't phone it in.   No matter what kind of music you make, as long as you're being natural, not trying to do someone else's thing, it's going to sound good.  
Skope: So do you work out of a home studio? What do you use to record?
Dr. Wippit: I do, I've been using Adobe Audition for the most part, and I record with an M-Audio break out box.   After releasing this album I picked up Fruity Loops, which has me pretty inspired because it's a new way to sit down and write.   I don't know how I got by all this time without MIDI!
Skope: As a one-man band, what instruments do you play?
Dr. Wippit: My favorite instrument is the guitar and (bass guitar), I generally program the drums, although I was a percussion major so I can play drums and enjoy that too, and I can play some keys.  
Skope: What can we expect from your new album? Do you have a title for it?
Dr. Wippit: No title yet, I've got a couple of works in progress up on Sound Cloud.   It will definitely sound more "up to date".   Some of the songs on my last release have drum machine tracks that were put together in the 90's.   Again it will have a lot of different styles, mostly cause I can't sit still.
Skope: Where can people check out your insanity or music?
Dr. Wippit: The best way to stay up to date regarding shows and releases is www.facebook.com/drwippit and www.twitter.com/drwippit, for content I've got all kinds of audio and video at www.drwippit.com.
For some off-the-wall awesomeness, check out Dr. Wippit's "An Anthology of Sorts" and get aquainted while waiting for your next appointment with the Dr.
Douglas Garnett – douglas.garnett@gmail.com – http://digdugdisaster.com