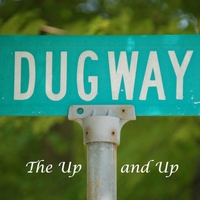 Based in Lenox MA, the band Dugway is a duo consisting of Chris Considine and Blake Poore. They used to perform as 'Chris & Blake' but scrapped that name for something a bit more cryptic. Drawing on their large repertoire of songs (as well as a few Beatles covers), they've entertained at a number of spots in the Berkshire region.
Still not yet 20 years old, Considine — the lead member — has been composing and producing tunes for nearly four years; he does lead vocals, some drums, guitar and piano, and admits having a sweet tooth for "unusual chord changes." His songwriting has also garnered the praise of one very notable critic: Peter Herbst, of Rolling Stone renown.
http://www.cdbaby.com/cd/dugway
Considine and sidekick Poore, let's call 'em Dugway, have now released their second full-length album The Up and Up.
The track "For Sure" has a rather unconventional beginning. About 30 seconds in, the vocal and instrumental components really start to jibe, and jibe in a fun way. I see what Considine means about 'unusual chord changes.'
The track "Home" is chill to the point of a listener's sense of time slowing down.
The track "I'm Possessed" is effectively weird and full of playful abandon. Some interesting guitar chops can be found.
The track "Feeling I'm Feeling" is quite different. Not sure if it's the result of wild creativity, or an aberrant psychological predicament, but it sure ain't mediocre.
The track "Say Hi" offers a fine medley of background bass and guitar. Some impressive vocals can be witnessed beginning at 0:52. I think I'd rupture my voice box if I even tried to imitate this. Anyway, the song's pretty darn catchy, and its lyrical story would resonate with many a young guy.
The following lyrics to the track "Fortune Teller" paint a sharp and accessible image: "She made us some tea /And kept us with stories of our destinies."
Dugway has talent and a bubbling youthful spontaneity. They well might be on 'the up and up.'
"Videos galore" are available at: http://www.youtube.com/dugwayband
Listen: http://www.dugwayband.com/dugway-music-downloads.html
Like: https://www.facebook.com/dugwayband
Ray Cavanaugh – owleyesgatsby@yahoo.com