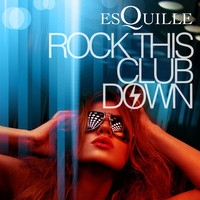 The eminent purveyor of Pure Nordic Trance known as ESQUILLE is once again acting like a mad chemist with his synthesizer (a Roland Juno-60 for all you beat freaks). His videos can be quite stimulating as well; think of some Swedish bombshell fox-trotting through urban Malaysia.
About ten years back he quit in frustration, as illegal downloads mega-ravaged his business. His home country of Sweden was "a pioneer in broadband technology and it was possible to get and download everything unchecked. People grabbed candy from the bag that was open for everyone."
But ESQUILLE is now back in session (piracy be damned!). He's since been hitting the dance floor and climbing the charts. He's learned that ubiquitous digital technology now also benefits musicians, who can quickly mix and release their songs.  
The latest ESQUILLE offering is the track "Rock This Club Down." It's part of a new EP that has been reviewed in numerous publications, including the ubiquitous Huffington Post.
This track was rumored to have an "infectious driving bass." Allow me to confirm this rumor. The chorus, "rock this club down," is delivered in a highly forceful manner. A wide-ranging medley of electronic sounds contributes to a feel of dance floor dynamism.  
http://www.youtube.com/watch?v=aYo6tqWt5Ng
Oh my word, not even a half-second into the "Rock This Club Down" music video, there's a girl upside down on a pole. Later on, stuff catches fire, and some dude emerges wearing a pig's head. Then the pole-dancing chick wears a pig's head. Even without a human face, she's still pretty hot.
Either way, I'm ready to 'rock this club down.'
Are you?
A whole arsenal of links are available…
 
Artist page: http://www.esquille.se
 
Facebook: https://www.facebook.com/DJESQUILLE
 
Reverbnation: http://www.reverbnation.com/esquille – Recently #1 in Sweden all genres
 
Soundcloud: https://soundcloud.com/esquille
 
Youtube: http://www.youtube.com/djesquille
Ray Cavanaugh – owleyesgatsby@yahoo.com