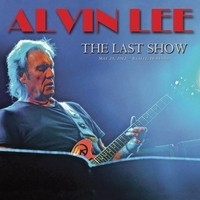 The iconic British blues guitarist who recently passed away, was best know for his frenzied performance of I'm Going Home (Going Home) with his band Ten Years After at the original 1969 Woodstock.   This release is a 14-song live disc that covers his Ten Years After and solo offerings, as performed in Holland on May 28th 2012.   The band formed in 1967, and released a total of 12 albums.   Later during his solo status, Alvin also became a favorite collaborator with many of his contemporaries like George Harrison, Stevie Winwood, Mylon LeFevre and Ronnie Wood.   His backing band for this concert consisted of Pete Pritchard on bass, and Richard Newman on drums.  
When you listen to this release, you recognize many AL tunes and riffs that have been covered by others throughout the years.   Alvin wrote the bulk of the material he played throughout the years, but also recognized other blues classics that he could take for an artistic spin.   He had a classic blues voice, and could sing his licks while playing them.   Classic Alvin songs like I'm Writing You A Letter, Going Home, Love Like A Man, and Hear Me Calling are done as well live as they were in the studio.   Even a cover like Al Kooper's I Can't Keep From Crying Sometimes (Alvin announces "An old blues number stolen by Al Kooper) takes on a nice new sound.   Other covers like My Baby Left Me (introduced as "A little bit of old Elvis"), is a fun tribute rocking in true EP style.   Rip It Up gets a unique personality, in a rockabilly fashion.  
These songs remind you that groups firmly rooted in U.S. blues based artists primarily conducted the British invasion.   The Stones, The Animals, John Mayall, The Who, and even The Beatles and the whole "Skiffle" movement were direct descendants of the blues genre.   Alvin was always a great player that even threw in some pickin' just for fun. This release is the blues, direct, unadulterated stripped down basic blues fun!  
By R.M. Engelman