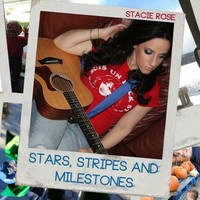 Hmmm. What else can one add to the discussion about an artist who has been featured on the following channels: "amc, abc, MTV, Vh1, FUSE, Oxygen, FX, Channel One, News 12 and E"?
Though Stacie Rose has kept the "personal details of [her] life gated," she's always down for sharing the "love of music that seeps from [her] pores, inhabits [her] being, and rules [her] world." Her latest album — Stars, Stripes and Milestones — is a corpus of work that was composed in Jersey and recorded in both the bucolic setting of the Poconos, as well as the urban bustle of New York City.
The track "Speak your Mind" begins with a mellow tone. After about 30 seconds of acoustic strumming, we get some background electric guitar, and the vocals pick up in intensity.
The track "Missing Peace" is more percussive, but still mellow. The lyrics are devotional, without being overboard.
"Long Haul" is a bit more vivacious a track. There's something both playful and earnest about Rose's vocals in this track.
And, speaking of vocals, some fine vocal mixing is rendered in the song's latter part.
There's something both dreamy and yet somewhat wistful about the track "Lucky."
"Walk in the Park" begins with a simple, repeating guitar riff. It provides a fine foundation on which Rose can later croon harmoniously.
"Adore" is the most bluesy and guitar-driven track so far. Could almost be a Mellencamp song instrumentally. The dual-vocal tracks in the song's latter part are quite beguiling.
We finally get a bit of a guitar solo in the second half of the track "Picture Perfect." Does Rose herself work the fret board on this one?
The track "Trading Stones" has what one might call a soft beginning. A graceful piano lick appearing about midway adds to the overall mollifying feel.  
Stacie Rose is a far gentler soul than Axl Rose. Her album offers a mellow form of passion.
Listeners can caress their ears at: https://itunes.apple.com/us/album/stars-stripes-and-milestones/id670151921
Or: http://www.stacierosemusic.com
Ray Cavanaugh – owleyesgatsby@yahoo.com