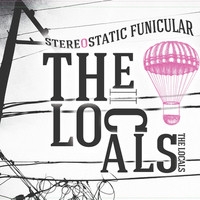 Chicago's The Locals have are one of those bands you just know when you hear them. They're young, full of sun, and they've got almost nothing to say about anything that relates to people who buy their albums.   Regardless of being signed to the Epitaph, the premier punk band label, they've been rummaging around the Midwest for the last three years in hopes of securing that reason to pursue affirmative action. I suppose in their own sad and diluted minds they've got the reasoning. But they found out and discovered they never had the luck God gave a garbanzo beans. Until me, that is.
 
Enter "Stereostatic Furnicular", the follow up EP to their critically thumbed-up 2010 album, "Salt". The bad news is, indignant of their location and frame of mind is choppy studio programming…but The Locals have been playing the game for years. And I agree for the most part. They're a sad obstacle #21 that's on this Chic-Pop-Chic kind of a thing a decade after everybody else. Unfortunately in a perfect world a bulk of us have heard these ridiculously idle excuses for chalk board snark before. So how does it measure up then?
 
Well. Approbation can be a double edge sword when dealing with a fem fronted band in a male dominated scene. But to really exploit the remedy of the opposite sex you need to have 'concrete examples' and back that up… Unfortunately the material here is just too contrived, meaningless and ultimately verbose to ever EVER be considered as laudable excuse for…well gunning for step two. Its like someone bribing a blunt trauma victim from Greenwich to think twice before she opens her mouth in a Spanish Harlem strip club again. Ever.
Buy:
https://itunes.apple.com/us/album/stereostatic-funicular-ep/id698781446
 
The 5 track EP has all of the excitement of moving on…think Interpol meets Metric. Its very positive…in fact its probably the best collection of tracks I've heard this year…in the clock doesn't say Karen O' on it.   'While 'Commerce' and 'Inches from the Floor' are 'Salt'-era Locals all over again, Inventio' is that epic closer you wish every Tegan and Sara album left you with…including Sara.   It's a tidy introduction to songwriter/vocalist Yvonne Doll and co. And for the cost of a bad apple I'd say it's a steal.
 
Now technically if you're a guy you could get away with drawing attention to yourself…provided you told your best friend you actually got the shot of penicillin. But theres more to life than reading feminine books and stalking the neighborhood Minister; even if he did trade you that 'Say Anything' Soundtrack for a muzzle and a pound of bath salt-infectious.
http://www.localsrock.com
 
Robin Kale – robinne.gilmore@gmail.com