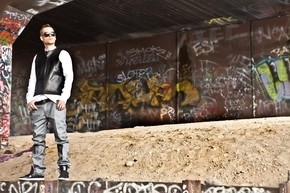 Armed with an arsenal of hit records, accompanied by impressive visuals and a verbal dictionary that omits failure or defeat, Chicago adoptee 5ivestar is ready to leave a lasting impression on the music timeline. Currently making his way up Rythmic and Urban charts around the country with his latest offering, 'Show Me You Love Me' from his impending official debut, 5ive Star is no stranger to Skope.
With his last two videos featured on the site it seemed obvious to get a bit more info for you, the readers, on the man who is dead set on shaking up the. So sit back and make yourself familiar with a man who is making extreme progress in becoming a recognizable force in the world of music.
If you had to pinpoint a defining moment for you when it came to being involved in music, what would that be?  
Well, often time it's the recognition from others that pushes you in a direction.   Producers began to recognize my abilities as an artist and songwriter and from there my music career began.   Before long, I started to get beat from all over and I just began writing to everything I heard trying to find my style and define my craft.   The process of creating music began and I haven't let up since.
Was this always the plan for you?  
Absolutely, my gift has always been to hear the melody in the music and write songs.   I am thankful for that ability because I never feel boxed in.   I always feel I can take the beat to a new level and really speak for the music, regardless of the genre.   I can confuse some people when they hear two totally different records, but damn that's my multiple personalities. (laughs). That's the point though, it's about making great music and exploring all types of music allows me to keep it fresh and interesting.
What have you had to sacrifice to do what you do?  
When you know this is what you are supposed to do in life you sacrifice everything.   Music is my priority period.   I have sacrificed everything from money to relationships but in the end I have no regrets.   I'd sell a kidney if I had too. (laughs)   My feeling is that if I don't sacrifice everything I won't appreciate anything.   It's that sacrifice that give what I do meaning.
Is there a Plan B for you?  
Yeah it's Plan A.   No, I'm only focused on the here and now.   I feel like if you worry that it might not work out then you are already doubting yourself.   I refuse to accept a Plan B.
Who are your biggest inspirations, both musically and personally?  
A very simple answer but a real answer is producers. As a songwriter, I get so much inspiration from hearing amazing production and it's that production that leads to hit music.   I've had the opportunity to work with platinum producers and dudes down the block and it's all the same.   You bring passion to the production and it inspires an artist to make hit records.   In terms of artists I've always been inspired by Outkast, and of course the greats like Biggie, Jay, Nas, and Pac.
5ive Star – "Show Me You Love Me"
http://www.youtube.com/watch?v=QAkUyxoZCTk
You appear to have a strong set of visuals to accompany your music. How involved are you in the execution of those?  
I get involved like crazy.   I get Kanye sometimes…(laughs) In making the records, I see how I want the listener to hear and visualize what's going on.   I have always guided the visuals.   I come up with all of the concepts for the videos and then the producer and director tweak my version.   Usually, I make some insane concept that we can't afford and then they bring me back to reality (laughs).   My favorite videos always tell stories.   Through the videos and the music I want to bring that creative aspect to what I do.   I love a good ass video but damn come on…let's do something a little different. (laughs)
In an 'ideal world' who would you call on to direct, appear in your next video?  
Well, my first record I put out in a major way with a crazy video was "Nicki." I want Nicki Minaj to come lay a verse and get busy.   I always had that vision for the record and I would like to see that pop off.     It's just a perfect concept video and since it is about her in a way, what better person to connect with.
You put a mixtape out last year and there is an album on the way, what can listeners expect from that?  
Definitely.   I got crazy support off the mixtape and actually my next 2 albums are done.   We are just making sure we have the right label support to bring them out.   In the meantime, we are going to be dropping singles.   The first single to drop is "Show Me You Love Me," which is charting on the top 100 on the RnB/Rap charts currently.   There is a lot more to come and I'm just excited to get all this music off my chest.   Actually, I'm just sick of listening to it…(laughs)
What is your process for recording projects, do you work with the same people, record in one location etc?  
I have a great team around me and I always record, get vocal production and mixing from the same people.   It's that consistency that allows me not to worry about the sound quality.   I've always been a mad scientist.   I just lock myself away, write everyday and make those records that we feel like are on the next level.   Those records that make the cut get recorded and we go from there.   At times it seems never ending, but when you look back on the volume of work and you realize it's an accomplishment in itself.   At the end it's about preparation and I'm preparing myself to be a superstar.   I train everyday.
What is the future looking like for 5ive?
I've always said if I don't win and perform at the Grammy's, I did something wrong.   My goal is to be considered one of the greats and if I didn't feel that way I would have never started this journey.   I'm hoping everyone is ready for the ride.
By: Lara Croft — Crate Raider