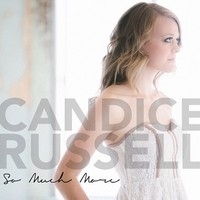 Performing with the same guitar her grandfather used in his heyday, Candice Russell purveys a modern pop style of music quite akin to Kelly Clarkson and Taylor Swift.
Russell, just 21-years-old, has now released her debut album So Much More. Drawing on some of her own experiences, and the struggles of loved ones, she strives to "reach people with music that [she has] written and hopefully uplift and help them."
In this endeavor, she well might succeed. One primary reason is that voice of hers, which offers both the playfulness of youth and the commanding presence of a seasoned pro.
But this is more than a vocalist album. Nearly all the tracks offer fine intro guitar work (have a listen to "Someday"). And other such songs as "Escape" entice the ears with a nifty keyboard riff.
https://itunes.apple.com/us/album/so-much-more/id661178028
"Remember" is a track that takes on a dark theme: sex trafficking. The song honors one of Russell's friends, a Cambodian adoptee, who as a mere child, was forced into the sex trade. This once-tormented friend has since emerged as a strong woman who now campaigns to rescue those still in her former predicament. "Perseveration" is a word that comes to mind when hearing this track.
Russell herself says that she wants this song to serve as "an inspiration to all women who have been abused, misused, abandoned or neglected."
What should also be mentioned about "Remember" is the way a simple arrangement of guitar chords grabs the listener from literally the song's first moment.
Another engaging arrangement can be heard on "Too Into You," a track that also has some amusingly critical lyrics. In fact, this track could have the best chance at radio stardom.
As for the album on the whole, "Smooth," "professional," and "earnest," are adjectives I would apply. There's also a sporadic edge to the vocalist's persona. Try the title track, and you might hear what I mean.
It seems Russell is primed for a fine career trajectory, for she "currently has the #1 song on http://indiecharts.com in the Top Songs category," and was also a "finalist in this month's Songwriter Universe song writing contest."
To hear what all the buzz is about, simply head to: http://www.reverbnation.com/candicerussell
Ray Cavanaugh – owleyesgatsby@yahoo.com