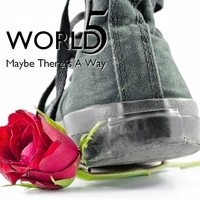 World5 is a talented bunch of musicians taking the world by storm with their brand new singles: "Maybe There's A Way" and "Man Of Action".   The group's previous releases included the single "You And I" along with their album 'Global Experience'.   The new songs are beyond catchy, which further proves that World5 is a force to be reckoned with in the music world.  
The players on "Maybe There's A Way" and "Man of Action" include: Grammy Award Winner Pat Hunt on lead vocals, piano and keyboards, Randy Miller on bass & vocals, Steffen Goeres on lead & acoustic guitars, trumpet & flugelhorn, Stephan Goessl on saxophone and Raimund Breitfeld on drums & percussion.   Just recently Stephan Goessl left the band and so the newest addition to World5 is Texan guitarist Joe Gavito.   World5's sound is extremely polished to the point where you can actually hear the hard-earned experience on both songs.   As a complete unit, World5 is absolutely in charge by giving you a commanding performance with the potential audience giving their undivided attention.   On the first installment, "Maybe There's A Way", one will bear witness to a highly resourceful Pop/Rock ballad with Adult Contemporary smiling in the background.   I couldn't help but notice a stylistic similarity to that of the awesome band Chicago on this number.   World5 played their hearts out on this one with plenty of feeling taking over the spot and the backdrop of rock blending in perfectly.   The way Pat Hunt sings on "Maybe There's A Way" and also the fine playing from the rest of the band makes for one enjoyable listening experience.   On the next track "Man of Action", World5 is turning it up a bit by going with a more upbeat tempo.   The song has such a lively & positive tone that is absolutely contagious.   If "Man Of Action" doesn't make you feel good inside then I don't know what will! That Soft Rock 'n' Pop sensation is still very much in place with World5 stealing the show on "Man Of Action".     Both songs are based on relationships and the sentiment is delivered & depicted in such a way that is easily relatable to the listeners.  
"Maybe There ´s a Way"
http://www.youtube.com/watch?v=fACdPhw4TiE
"Man Of Action"
http://www.youtube.com/watch?v=Yy260pAEu0I
"After listening to both "Maybe There's A Way" & "Man Of Action", I am convinced that World5 is a powerhouse group that deserves major recognition.   I really do feel that World5 would have been a fantastic classic rock group back in the day but currently they are a fine-tuned, music making machine made up of all the necessary parts to help World5 operate at a high level.   Those distinct parts include: well-versed instrumentation and top-of-the-line singing, ear-catching & relevant material that draws you in and don't forget the striking elements of Pop/Rock/AC as well as the almighty Ballad.   This is World5 in a nutshell and this is what makes the band so darn great.   Their songs and their music stand out in a humongous way so watch out for this World5 as they hit the scene.   You can purchase the singles "Maybe There's A Way" & "Man Of Action" online at iTunes & Amazon and you can also find out more about World5 on their website.
5/5 Skopes
By Jimmy Rae (jrae2@att.net)