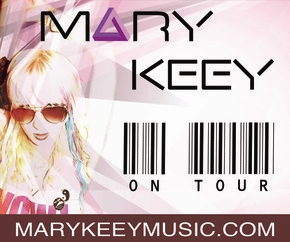 Good morning world. I hope you are all doing well this week. I love taking time off but coming back to 300+ emails can be overwhelming. This is exciting news I read on emarketer.com, "The average adult will spend over 5 hours per day online, on nonvoice mobile activities or with other digital media this year, eMarketer estimates, compared to 4 hours and 31 minutes watching television." Just another example how the internet has changed the game for all media from music to print to TV. You know planning a US tour can be tough for a domestic band but how about for Mary Keey from Switzerland?! Well that is not getting in the way of the band, Mary Keey, who plan to start on the northeast and head west spreading their electro pop sound for all to hear. I am so excited to meet up with Mary & the crew in Boston I had to have them on first. Join us today as Mary Keey speaks on planning the US tour, what a live show for Mary Keey is like, EDM music dominance, and much more!
Stoli: How is your summer going and how do you stay cool in Olten, Switzerland during the heat?
Mary and Phil: All OK down here!   As far as the temperature goes, it's quite hard to take. Luckily we are spending most of our time in our recording studio! It's an underground recording studio and it stays pretty cool during summertime!
Stoli: Offer a brief history of how you all came together and decided to call the band, Mary Keey?
Phil: When we first met with Mary, we spoke about collaborating as artists.
We really didn't care about a name at the time, I just knew that Mary was something special and that we needed to get together as soon as possible. So we scheduled a recording session and WOW!! It was incredible; this thing took off like a rocket. I remember we came up with a few tracks in a matter of 2-3 days! At the beginning we just wanted to have music and see how far we could have pushed our creativity. After the initial recordings, we knew that we knew we had something special, and new we had to share it with others maybe even the world. As for where our name came from; It was one time, when Mary told me she had this idea of a Key in mind! For Mary, the image of a Key was, is, and always will be the image of a song Key, representing Tonality, the Hook, lyrics or both in a song. Each one of these components of a song require that the song be in a specific Key, or the Key to success in the music business, the Key of the whole fashion idea behind her style of clothing. And I really have to say, Mary has a serious sense of fashion!   She always manages to surprise me at every photo-shoot!). So I told her HEY!…let's take your name Mary and somehow place it into the concept of the Key!…And there you have it Mary Key. It seemed simple enough, but the first time we wrote it out, we mistakenly wrote "Mary Keey" with double e! LOL so that name stayed written in that way! We always thought that being spontaneous is a great thing, so it was the final ingredient in our music.
Listen:
https://soundcloud.com/mary-keey
Stoli: Your bio states that you are a "professional and experienced party and performance band". I love to party, so how does that description fit into your live show?
Phil: You like to party??…So be ready for when we come over to the US! OK??:-)
Mary: We are three (3) professional musicians coming from different backgrounds. Phil has a Master in Music Production and Guitar from Berklee College of Music in Boston, USA, and prior to this he studied guitar at the Academy of Modern Music in Italy. He also studied for three years of Piano, Cello and Classical Music Theory at the Conservatory of Music in Piacenza, Italy. Lizzy has a Masters Degree in Jazz Performance with the Conservatory of Music in Piacenza, Italy and I Studied here in Switzerland, Voice and Saxophone. Recently I specialized in Songwriting with Berklee College of Music.   This is our music culture and still today we study as much as we can. I'm Only giving you our credentials as to explain we are professional and we don't just act as such. In addition to that, we come from playing with several bands, which brought us to play any possible genre, and I think you can hear this blending of genres in our music!
Stoli: I am excited to announce that you are heading over the pond to the USA. How is that going and where will be able to see Mary Keey live?
Phil and Mary:   Our Manager John Rockmore and Rockmo Entertainment, is handling all of the details of the tour. We have told him that we would like to see as much of the United States as we possibly can, we were so overwhelmed with the response of the American people on our First American tour, we told ourselves; " The Next Time, we will make sure that everyone who wants to see Mary Keey gets that opportunity. We Can Tell you this We have put pressure on John to make sure we can reach as many people as possible. We Can Tell you This Many of the Dates have been locked in, and It does look as though we will be Spending Our Christmas Holidays with the American People. We are very excited about what our management team has put together but we are sworn to secrecy until the end of this week. We will be making announcements via our social media, Blogs and of course Skope Magazine. You Guys will actually be the first to know!
Stoli: What are some challenges that you have faced booking venues and are venues harder on you being that you are from outside the USA?
Phil: Booking venues is normally our Manager John's affair but before we started working together we had to do everything ourselves, booking, promoting, sales, calling all the promoters all of it. But I will say that, talking with the promoters in the U.S wasn't so bad because the American People seem to have a connection to our music, and the promoters will give the people what they want, they are very professional that way. At least that has been our experience.
Stoli: What can people expect from a live Mary Keey show and how do you get ready to go on live?
Mary and Phil: A Mary Keey show is filled with energy and high emotions. We want to give the experience of a show and not just a concert. We want Euphoria not just happy faces. We really want you to leave us wanting more, also we want people leave having not only seen our show, but have had a unique musical experience that they will remember for the rest of their lives.
So our preparation for a tour is a lot of work and it's always a challenge. We start with a ground idea for a theme and from there we write all around it. We start with writing the songs and building our stage outfits. If you go to our webpage you can guess a bit what the show will be about, but more we won't tell you yet, you'll have to come to one of our shows!
Stoli: I am addicted to your song "Euphoria." Who did the beat on that track and what does that song mean to you?
Mary: Phil wrote down this beat in a studio in Italy – we've actually wanted to recreate a song from scratch keeping only the main structure of the song. Euphoria to us was an experiment and we've been surprised of its response…That's the reason why it's on our 100 Lights EP.
"Closer"
http://www.youtube.com/watch?v=ViEmJZ3NkU4
Stoli: You are now working with Rockmo Entertainment, a managment company based in LA. How did you hook up with them and how do they help push Mary Keey?
Mary and Phil: We where in contact with John Rockmore, President of Rockmo Entertainment for several months before we started actually working together. We both believe that having management is far too important to not have the right person doing it. Now we officially work together and there is just great chemistry! He's a great guy and he totally has our trust. He runs an amazing company that definitely will bring us to the next level! Since the beginning of his work the results started and keep coming in like water in a river and this is awesome!
Stoli: EDM music has taken off in a major way. What is it about the music and the times that resonates with the masses?
Phil: I think it's a lot about experimenting with new things to enhance or make our music better. We are constantly striving to make ourselves better… Technology has been improving so much in the music Industry. Technology is a great thing for our Industry, however we still like to play and hear real instruments. Don't get us wrong, We love our digital age, and we love to mix old things with new things! I think it's that mix of real instruments together with electronic/digital sound that makes our signature sound. We have some things similar to a DJ but we still play our music live and we record live. It's the emotion of playing an instrument at the end. And that's what connects us to the fans.
Stoli: How do you plan on not getting homesick on the road and how do you plan on keeping in touch with friends/family back home?
Mary and Phil: We will stay in touch with everyone via skype and they'll see our updates, tour pictures and concerts on our web page. Being on tour is what we love and it's our work! We choose this! And we're so ready and excited to make new experiences on tour and who knows maybe we'll write a new song about being homesick ahhahahah…
Stoli: What is coming up for Mary Keey and where you @ online?
our official webpage is:
www.marykeeymusic.com
we do have facebook, twitter and instragram that constantly get updated:
www.fb.com/marykeeymusic
www.twitter.com/marykeey
http://instagram.com/marykeey