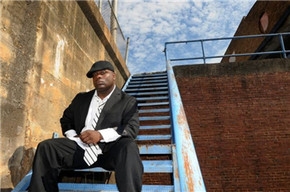 Some things just defy categorization, while you can clearly hear different genres in the mix, you can't exactly describe what you're hearing. And that's a good thing. Too many 'artists' these days rely on studio trickery and generic pop sounds to get their name out there. And that's a bad thing. The Jay Storm Project isn't one of them. They've carefully crafted a style all their own while borrowing from funk, hip-hop and rock and establishing themselves in Tennessee and beyond as torchbearers of real music for new generations of knob twiddlers to learn a thing or two about music.
Skope: As a former part-time Tennessean, I witnessed a barrage of music of all kinds, from Nashville country, folk and bluegrass, to Knoxville indie rock and Memphis blues, and hip hop more recently. How did your location affect you creatively and help you hone your sound?
Jaystorm: I was born in Greeneville TN (about an hour NE of Knoxville) Where I grew up there was a population of about 20,000 or so with only 8 percent of that being African-American.
Having that said, the musical atmosphere I grew up in besides church was rock-n-roll (AC/DC, Foreigner, Kiss, Motley Crue, Winger, Charlie Daniels **Whitesnake** etc)   & Country (Garth Brooks, Charlie Pride, **Johnny Cash** etc). The funk and soul that I did grow up with was luckily in the household via my big brother and all types of vinyl records. He was really into Confunkshun, Bootsy Collins, Prince, SOS Band, Sugarhill Gang, Roger Troutman, & Grandmaster Flash and the list goes on.
My parents were into everything funky from 1969 and under so I heard a lot of music that really started enjoying at a very young age. Hearing this along with my mother playing piano for the church for over 20 years (and at home) made me open to all types and Genres of music…
When I do my music, I take the inspiration from all the songs I have ever loved and express them as one big family and that it what you hear when you hear The Jaystorm Project. We touch a lot of people with what we do and that's all that counts to me…
Skope: How would you describe The Jay Storm Project to those who haven't yet heard you?
Jaystorm: The Jaystorm Project is best described as Funk, Rock, & Hip-Hop. We are a five piece (Sometimes 6 or 7) high-energy band. We really enjoy the shock factor, which means you really never know what we are going to perform for you next.
Jay Storm Interview:
http://bcove.me/kew4isdl
Skope: Your album "A Brand New Funk", what's it about? Is there any concept behind it or is it a party record?
Jaystorm: The concept I'm coming with on hat particular EP is a concept that different types of music can live in one place and get along very well. Especially today… Some folks are all Rock, all commercial rap, all hip-hop, all country but things are changing and more and more things are being accepted overall in the game of life as you can everyday. I wanted to let them know a certain type of music doesn't have to be segregated and confined to one Album or Project. We can all drink out of the same water fountain and still get our thirst quenched.
Skope: I read that Run DMC and Beastie Boys were influential on you as a youth, who are some other artists that have influenced your songwriting?
Jaystorm: LL COOL J, KRS-1, Public Enemy, Slick Rick, Big Daddy Kane, The Whole NWA Crew, Redman, Method Man, The Boogie Boys, Heavy D, Special Ed and the list on and on… So you probably can see which era I'm referring to just by the names alone.
Skope: Speaking of songwriting, are you the primary songwriter or do you collaborate with the band?
Jaystorm: I am primarily the writer but I do work with a host of ther writers… I write all my rap lyrics and have collaborated with other artists as far as the singing part of my songs
Skope: For live shows, do you have a band or are they session players? Can you tell us who's part of JSP and what they do?
Jaystorm: There is a saying that's popular from way back "The show must go on" and what I mean by that is exactly what it says. When I first started, I did shows to tracks when I was in a singing group called "PD-6" and tracks only. We were probably doing 3-5 shows a year which wasn't much but we were very effective at what we did and have opened up for some major label acts but never really made it past our home town. I hustled to put us on the map without any technology that we have today.
I was out by myself singing karaoke each and every night at different spots through out Upper East TN just because I didn't have a choice in the matter. It was either do that or sit at home so I hustled it out. I sold tons of CD's that way like you wouldn't believe.   When I went solo, I came out with a single and pushed it to no end with the same process and really made a dent in things. Still doing shows to tracks, I managed to do a lot more show yearly than I did doing the group thing. So I start researching and looking at the entertainment section in the news papers and noticed who was playing out the most and went and seen them and that's when I got introduced to the acoustic guitar and vocal action and was hooked every since.
I got into a band that I didn't belong in when I very first started playing in full time with a live band. Before that, I sit in with plenty of bands, which is what prompted me to either get in one or form my own. With my first band, we practiced for 8 straight months and only did 1 show and it was an all original show (Rock) and the place was slammed packed. I was brand new & very excited but that's when I knew I belonged in a band setting but just not with that particular band.
We departed from each other but I kept the party going and formed my own band "The Jaystorm Project" and the rest is pretty much history. No session players for me my brother. What hear on CD is usually who is on stage with me. If one player can't go, I have 3 more subs that I can replace any of my band members with. I think the name is fitting because with us it's always a project because you never know whom I'm going to show up with but whoever it is, they usually have their act together better than most & we don't miss a lick! I could name everybody but that would take an extra 2 more sheets of paper lol . The instrumentation is: Guitar, Sax, Bass, Keys, & Drums (sometimes percussion)
Skope: You play some covers that you've sort of made your own, what are some cover songs you perform live and why?
Jaystorm: I have grown accustomed to giving these crowds in the south "The Shock Factor" and what that is giving the people something that they never ever would expect that we would do off of pure perception alone.
The songs that we do to generate that is songs that we actually "like" and when we perform them we do them as if they were written for us and we perform them that way.   Simple man — Lynard Skynard, Wagon Wheel — Old Crow Medicine Show, Is this Love — Whitesnake, All Right Now — Free, Folsom Prison — Johnny Cash and then turn around and do My Mind's Playing Tricks On Me by the Geto Boys, or Laddi Daddi — Slick Rick!
The transition is so way off that it's became an attraction to people and its very entertaining along with all of our originals.
Skope: Are there any plans on touring outside of the region?
Jaystorm: We are gearing up to regionally and would love to go beyond the southern states. We are planning the work as we speak and when we finish that it's time to work the plan. We definitely have to put the correct team together but its almost done
Skope: What's your favorite song from the album to perform?
Jaystorm: My favorite song to perform is "Get Wit Cha" and that's because the groove is so funky and it moves me. It lets me connect to the crowd in a manner that I can't do with other songs…It's a special tune.
Skope: What's next for The Jay Storm Project?
Jaystorm: Next up for the band is releasing another CD in September and shooting 2 brand new videos. We are approaching people that we have never approached before and that makes all the difference in the world if you just reach out to people that can help you…
Check out The Jay Storm Project @ http://jaystormproject.com and also Facebook. Grab a spoonful of funk for the soul.
Somebody said to me "if you don't ask, then you will not receive" so when you do ask and you still don't receive, you never lost nothing in the first place. At this point you have absolutely nothing to lose and EVERYTHING to gain!  
Douglas Garnett – douglas.garnett@gmail.com – http://digdugdisaster.com