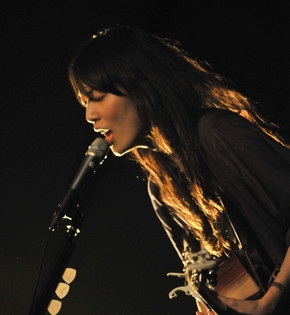 Pop music in Japan, just like pop music anywhere, has a lot of style variety. From dance-pop to power pop, disco-pop to bubblegum, indie pop, pop punk, and on. Music venues and festival stages showcase the whole gamut. One sub-genre of pop music quite popular in Japan is what some call "singer-songwriter," but others just call "traditional j-pops." Usually it is just a girl with a guitar. Sometimes it is a boy with guitar. Now and then it is a girl with piano. But the core focus is on: one voice, one instrument. Upon occasion, these artists perform with additional backing musicians, but the strength still relies on that one voice, and her/his instrument. While most "traditional j-pops" is in Japanese, as the music itself inspires some emotion, it can be enjoyed by anyone. Some artists have also begun writing entirely or partially in English. Recently we spoke to two such artists.
One artist who sings in both languages is Fuyumi Abe. She released her major-label debut in 2007 through For Life Music Entertainment , and was then asked to contribute music for several TV drama and movie soundtracks. She is known as much for her unique worldview, as for her affecting, whispery voice, and thought-provoking lyrics. Weaving a style that mixes elements from blues, folk, rock ballads, and acoustic music, in to her own intriguing form of pop, with artfully chosen words, she continues to make new fans, and is invited to participate in more events, festivals, and other media-music work. She performs both solo shows, as well as specially arranged shows with support musicians or small orchestra type backing. Her music is music to "listen" to, to feel. Recently she released her first set of English lyric songs on iTunes, so it may be hoped that her popularity outside of Japan will grow.
Skope: When did you first start singing and how does your family feel about your musical career?
When I was 18, I started singing and songwriting, hoping to just find some kind of job in music. My parents were quite disappointed with my choice, but I think they just gave up trying to convince me to quit.
Skope: Who are your musical inspirations? What kind of music do you usually listen to?
I am inspired by all kinds of music, whether I hear it on the radio, a CD, or in the background of a TV commercial. But my usual choice of listening is rock.
Skope: Where do you usually gather songwriting inspiration? What is your usual songwriting process?
I try to make some association between the shape of the (Japanese) characters, the sequence of the song, and the sentence length. Sometimes I am inspired by photos or videos so I just let the feelings take their course. Mostly I compose on guitar, not piano.
Skope: Recently you released some songs with English lyrics. Why have you chosen to add English language songs?
I thought I would like to use the shapes of the English sounds. There is also a different rhythm to English, that can draw people closer. I also find the clarity and directness of Japanese lyrics, when well-translated in to English, to be quite interesting.
Skope: What embarrassing songs might I find on your MP3 player?
I like to keep some songs or artists close by listening to them alone, so my personal playlist is top secret!
Skope: Where would you most like to perform? Who would you most like to share a stage with?
I'd like to just go some place unusual for music, bringing instruments along. Maybe an empty warehouse, or some hallway! Ever since high school, I have liked GRAPEVINE (J-Rock band), and have had some dream to play with ACO (band member).
Skope: If you weren't singing, what other instrument or career would you have chosen?
If I wasn't singing, then I guess I would just play guitar…or maybe…bass! It wouldn't matter the style of music, but I'd need to practice a lot first! If I was not even in music, I would probably be working as a department store clerk.
http://www.abefuyumi.com/
https://itunes.apple.com/no/artist/fuyumi-abe/id504317827
http://www.youtube.com/watch?v=m5UiOcrixLk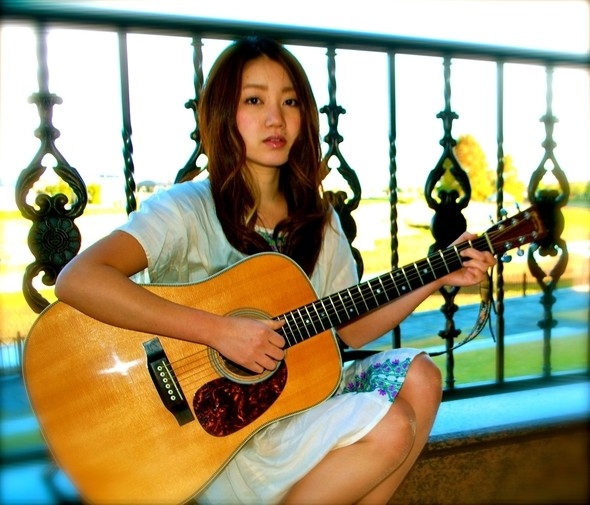 A relative new-comer on the j-pop scene is indie artist Kumi Hirata. Heavily influenced by Western styles of pop, as well as rock, R&B, and soul, she sings heartfelt songs, designed to create good feelings. Writing predominately in Japanese, with sporadic English phrases, her songs evoke thoughts of past and future pleasant times with family and friends. Most times, she performs solo: she and acoustic guitar. Sometimes she does special shows with half the set   being she alone, half with a suitably warm and mellow arrangement of her music in full band form. While not officially "her" band, as each has their own musical projects, she tends to use the same musicians each time to keep the familiar, comfortable feeling. Special shows usually include Tokyo-based musicians: Ryo Owada on guitar, Katsuya Sakurai on bass guitar, and Sean McGee on drums and percussion. Her music is a sort of background music to life; good for breakfast outdoors in the spring, or sunset gatherings on the beach: her style carries anywhere.
Skope: Tell us about your musical beginning.
When I was 21, I quit my job and seriously and constantly started learning how to play the piano and write songs. One year later, I played my first show. My parents were very supportive , they love music, and often come to my shows.
Skope: Who are your musical inspirations? What kind of music do you usually listen to?
I do a lot of research. I go see concerts by other artists, check iTunes playlists, and research other singers ideas and words. I find inspiration from music that when I hear it, I feel like "this is it!"   The writing just flows from that feeling. I start to compose with that inspiration. I find going to a park near my home and writing works best for me.
Skope: What embarrassing songs might I find on your MP3 player?
Nothing! Ha ha! Oh! I wonder if maybe there is something embarrassing there…
Skope: Where would you most like to perform?
I love outdoor shows! The best feeling is playing with a band outside.
Skope: Are there other styles of music, other than pop, that you would like to play?
Latin music!
https://www.facebook.com/chankumih
https://www.youtube.com/watch?v=Ahtr92lq8zA
Apryl Peredo, MBA – inter.idoru@gmail.com – http://twitter.com/#!/interidoru