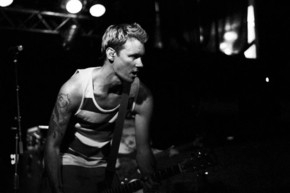 Photographs from Ballyhoo!'s show at the Brighton Music Hall with Authority Zero and Versus the World as part of the Summer Sickness Tour! 2013.All images © 2013 Alexandre da Veiga. Skope photographer, Alexandre da Veiga(www.daveigaphoto.us), had a chance to have a quick chat with Howi Sprangler, Ballyhoo!'s front man.
Skope Magazine: What can fans expect from the new album?
Howi Spangler: Good pop, punk rock, reggae, a mix of vibes.
SM: What is the difference between this and the previous four albums?
HS: We get better with each record, in terms of musicianship, branching out a little more, we also have better songwriting. We tried to not do anything too drastic to avoid upsetting anyone.
SM: How long have you been playing?
HS: Eighteen years, touring for seven. We were kids when we started, no means to get on the road, we had to play shows at school and friends parties. Started touring in 2006, lost a ton of money, but you are not doing it right if you don't lose a ton of money (laughs).
SM: How long did it took to record the album?
HS: Three weeks. We did it in Orlando, FL. We played a show, a new year's gig, and in the next morning we drove down to Florida and recorded it. We had to do it all because of a deadline, we had a tour coming in February. It was very stressful and frustrating. I could not imagine having a record by the end of the month, but we did it!
SM: How is the reggae scene in Baltimore?
HS: The reggae scene changed, there were a few bands doing a more roots, traditional, Jamaican style reggae, now it became more of an Americanized thing.
SM: Yeah, the bands started adding their own flavor to it.
HS: We kind of made it our own, mixing punk with reggae. You can see where it comes from, there is the up stroke there, and you feel that vibe, it just that we give it that punk edge.
SM: Tell us about doing Warped Tour 2012?
HS: Boston was a great show, it was a lot of fun. It was crazy, man, we went around for 50 days, it was ridiculous, it was hot, it was messy, it was dirty, just gross, but it was a valuable experience. SM: Yeah, as a group of musicians, that is something that you really have to do. HS: We are happy we were a part of it, so glad that we did it, and we did a Kickstarter campaign, got all of our fans throwing around money for us, and we got a Rock-It-Ship(tour van/bus) that had bunks, air conditioning and all that, it worked out great. From all the stuff we did last year, warped tour, supporting 311 and all that other stuff, we ended up seeing, back in February, the biggest tickets sales we have ever had as a band, all that work paid off.
SM: Nice, How is the tour going?
HS: The tour has been great, a lot of energy at the shows. We are about half way, on the end of July we will finish the tour with these guys, Authority Zero and Versus the World, and then we go back home and pick a few shows on the way. We usually play with reggae bands, and that is great and I love it, but sometimes is good to "throw it in your face" a little bit, sometimes you go to the reggae kids they do not really know how to take that more "in your face" guitar riffs, big drums and stuff. So now we get to trash all over the place and people just take it.
SM: How do you feel about the internet, piracy and the ability to connect with people everywhere?
HS: I do not mind illegal downloading, I am just happy that people want to steal our record and give it to their friends. And you know what? We got a lot of fans that way. They came to the show, bought a ticket and a t-shirt, so it's kind of like they paid for it anyway. You do not make money with CD sales anymore.
SM: Yeah, that's the think…
HS: It's all about working social media and selling merch at the shows. Having an online presence is important, that is where all the kids are, all the kids are listening to music on YouTube now. You have to learn the technology and embrace it, man, It can make it easier, or make it harder, because at the same time that you are connecting, there is a million other bands doing the same thing. So you have to claw your way to the top, make sure you are being heard, the people know your band logo. But the music is the best promotional tool that you have, and it better sound really fucking good. At the end of the day, the music is going to speak for itself, if it is good. With social media it gets tough sometimes, other bands are flooding timelines with their stuff too, so you have to really stand out.
SM: Quality, The cream always rises to the top.?
HS: Yeah, Exactly.
By: Alexandre da Veiga – http://www.daveigaphoto.us – a_roberto_23@hotmail.com