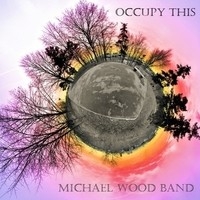 Michael Wood Band gives you music that draws you in right away through vocals, lyrics and instrumentation.   This Canadian-based band has got it all covered quite nicely.   With their new 12-track album out, 'Occupy This', Michael Wood Band is looking to grow and really come into their own in 2013.
The group is made up of four talented members: Michael Wood on vocals & guitar, Josh Weed on guitar & vocals, Jon Burgundy on bass & vocals and Alex Campbell on drums & vocals.   As soon as you start listening to the record, you can't help but notice how in sync they are from a vocal & musical standpoint.   Michael Wood Band is singing & playing together in unison throughout 'Occupy This' as you definitely sense the camaraderie factor in a BIG way.  
"End Of The World":
The styles lie within Rock, Pop & Alternative but Michael Wood Band puts an original twist on each of the songs.   For instance, on "Gotta Save Somebody" one will hear an excellent rock groove to go along with dynamite guitar riffs and then they turn around and jam out like there literally is no tomorrow on "End of the World".   Things get a bit more deep on "In Bad Light" but then all of a sudden it just all feels so good and so right on "How Does It Feel".
Michael Wood Band offers an incredibly catchy sound and their music really moves.   Lyrically, vocally and instrumentally these musicians are not missing a beat on their debut release 'Occupy This'.   I highly recommend Michael Wood Band and the new record as I feel this band will continue to get better and better over time.   And considering 'Occupy This' is such an impressive start, the potential for Michael Wood Band is just flat out scary!
www.michaelwoodband.com & http://themichaelwoodband.bandcamp.com
Rating: 5/5 Skopes
By Jimmy Rae (jrae2@att.net)