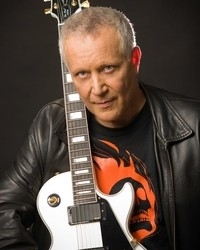 Coming straight outta Calcutta, an Australian resident named Rhett May delivers 'Insatiable' to the public.   Rhett had the help of Musik and Film producing, co-writing and playing on the new five-track EP.   With heavy hitters in the music biz on May's side, 'Insatiable' is sure to be a grand slam!  
The first single to be released to radio stations worldwide by Musik Radio Promotions is called "Cocktails and Cannabis".   This song contains one cool rock vibe to go along with an equally cool voice effect.   The overall sound is overly polished with the guitar playing on point and in the zone.   From a production standpoint, "Cocktails and Cannabis" is a winning combination with MAF hitting all the right notes & numbers.   I'm not sure if there was any drinking or smoking involved during the making of this song but I can coherently say that "Cocktails and Cannabis" sure does feel good man!   The title track is up next and here is where you really get a sense of what Rhett May is all about.   You're hearing a unique and mysterious quality to his voice that draws the listener in and then throw in a simple yet satisfying feel that fits in perfectly!   One will also experience a multicultural vibe from Rhett that shines through on this EP thanks in big part to his deep Indian roots.   Eclectic can best describe Rhett May and his music with elements of: Rock, Pop, Folk, Indian influence and even Reggae all present and accounted for on 'Insatiable'.  
Classic Rock, especially pertaining to the 60s era, played a huge part in Rhett May's life and this helped shape Rhett in regards to his development as a singer/songwriter/musician.   This classic rock mode can definitely be heard on the new EP with particular attention directed toward track four, "Jenny" that also incorporates a retro folk style.   'Insatiable' is already a BIG success in my book and I'm sure will be another rock-solid addition to the famous "Wall of Success" via Musik Radio Promotions.
www.rhettmay.com
www.musikandfilm.com
Rating: 4/5
By Jimmy Rae (jrae2@att.net)