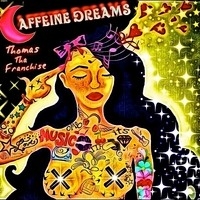 Coloradoan Thomas Tha Franchise makes music in such genres as hip hop, pop, and frat rap. He's a rather untamed spirit, who'll "get on random trains from time to time just to write songs." The product of such ventures is his spankin' new album Caffeine Dreams.
The "Intro" track serves to welcome the listener. Thomas begins with a monologue, talking about his album two years in the making, and how, largely because of his musical calling, he could "never hold a corporate job."
Free download "Live it Up"
https://soundcloud.com/thomas-tha-franchise/ttf-live-it-up-2nd-mix
The introductions have, more or less, subsided for the track "I'm Good," which has more of a pulsating dance vibe. About a minute into this track, it becomes pretty clear to me that Thomas can actually rap. I think the beat with this track well complements his vocal pitch & cadence.
The title track takes on an Eminem-like tone of personal struggle. Yeah, I dig it, this track is engagingly raw. The background keyboard adds a fine element. The guest female vocalist does a superb job. Ya know, this track could garner some pretty serious radio time. Certain lines, however, might need a bit of censorship: "I'm the reason your girl's [reproductive anatomy] is kinda loose."
"Thumbs Up" launches with a pop vibe, though there's an undeniable hip hop current. This is a perfect summer song, knockin' around the beach boardwalk.
"50 Shaded" is another forceful track about personal ambition. The lyrics can get a wee bit belligerent: "I'm on fire / I know dat they ain't seen nuttin' yet / I'll make 'em feel it in their heart / like a fuckin' hole in their chest." There are, however, moments of gratitude: "But dad gave me the passion…"
"Live It Up"
http://youtu.be/Ft6h-V1DlhE
"Ambition" has a rather rapid beat. I'd say it's a dance track, but I'm not sure if anyone could dance quite this fast! Some of the lyrical imagery is quite memorable, such as when the speaker threatens to "take [your girl] to the doctor" and "buy her bigger knockers."
"Live It Up" also has a rapid pace. Thomas proves once and for all that he can rap quickly. This track would be a fine complement to a crowded, energetic party.  
"Where's Your Soul" has a bit of a contemplative tone. A sensual-sounding background vocalist provides a nice touch. Mixing "Red Bull" with "Adderall" is probably not the safest cocktail, but I suppose it's fitting for someone who so adamantly pursues his "caffeine dreams."
Get amped up yourself at: https://itunes.apple.com/us/album/caffeine-dreams/id654452588
Other recommended destinations include: https://soundcloud.com/thomas-tha-franchise
 
Ray Cavanaugh – owleyesgatsby@yahoo.com