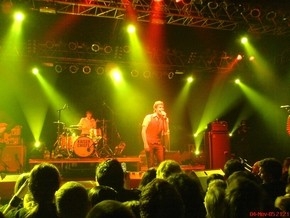 What is the best way to unwind yourself after a hard day's work? Generally after a day's toil, once you return home you turn on the music to listen to some wonderful tunes. Music is a wonderful stress buster for all.
Only by hearing the melody or the lyrics you can feel the emotion associated with it. A ballad will make you cry while a rap or disco beat will invigorate you and make you feel positive. Romantic and love songs will take you to another world where you can visualize or might relate to your own story told by some other singer. The lyrics of some of the romantic songs are so powerful that they can even bring tears from your eyes.
Ask any couple out there about any romantic song, they will definitely say that it is "their song". In other words, music is the best way to energize your power once again. Songs of all genres has different appeal for different people — some prefer to hear romantic songs, while others like ballads, while some other people desire to listen to pop songs.
Over the few years, pop songs have become pretty popular to the music maniacs. 2013 has also brought a wide range of pop music with some of the famous pop stars' rocking performance. Stars like Lady Gaga and Madonna will give their performance in American concerts this year.
American music and your favorite pop music are expected to grow this year. 2013 concerts include stars like —
One Direction
Jason Mraz
Lady Gaga
Madonna
Pink
Music industry has been growing over the times. But even in this dedication and hard work, Pop music held its position and survived at its best. Recently, some of the reality music shows such as American Idol is promoting pop singers to encourage them to contribute to the sphere of Pop music. Kelly Clarkson is one of the reputed Pop music artists you might hear this year.
Now, what is the pop music releasing for 2013? Well, here is a list for you…
fun.,- 'We Are Young' Feat. Janelle Monae
Phillip Phillips, – 'Home
Nicki Minaj,- 'Pound the Alarm'
Alex Clare,- 'Too Close
Karmin,- 'Brokenhearted'
Neon Trees,- 'Everybody Talks'
The Wanted,- 'Chasing the Sun'
Calvin Harris,- 'Let's Go' Feat. Ne-Yo
Rihanna,- 'Where Have You Been'
Usher,- 'Scream'
Flo Rida,- 'Whistle'
Cher Lloyd,- 'Want U Back'
One Direction,- 'What Makes You Beautiful'
David Guetta,- 'Titanium' Feat. Sia
Owl City and Carly Rae Jepsen,- 'Good Time'
Maroon 5,- 'One More Night'
Carly Rae Jepsen,- 'Call Me Maybe'
Gotye,- 'Somebody that I Used to Know' Feat. Kimbra
Pink,- 'Blow Me (One Last Kiss)'
Justin Bieber,- 'As Long as You Love Me' Feat. Big Sean
Maroon 5,- 'Payphone'
Katy Perry,- 'Wide Awake'
fun.,- 'Some Nights'
Taylor Swift,- 'We are Never Ever Getting Back Together'
Ellie Goulding,- 'Lights'
Pop music rhythms are such that it will definitely rock the stage! Check out the list and wait for the upcoming songs!
Author's Bio: Nancy McGinnis, is a great fan of music, especially pop music. The music reality shows like American Idol and The Voice are her greatest fantasies. She keeps on searching the web for online list of the upcoming pop music list. Now, she has shared one with her readers.