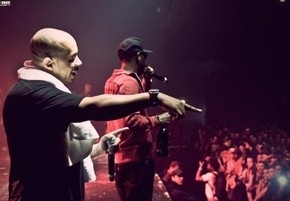 Founding member of the mega-platinum iconic rap collective Wu-Tang Clan, U-God, is returning to the game with a bang. U-God will be blessing us with his 3rd solo release, Keynote Speaker on July 23rd via RZA's Soul Temple Records.
https://soundcloud.com/tremedia-music/u-god-heads-up-ft-the-gza
Keynote Speaker features 15 gritty and raw tracks that channel the essence of Wu-Tang's staple sound. The album will boast features from Method Man, Inspectah Deck, GZA, Kool Keith, Styles P, and Elzhi from Slum Village. U-God plans to give the fans a rapid fire taste of the album by releasing 3 singles bi-weekly. First up, "Heads Up" will debut today, June 11th and features GZA, as well as his longtime partner in rhyme, Jackpot Scotty Wotty. The hookless song brings you back to the era of Wu-Tang's original posse cuts and will pull the listener in with back to back verses and assaulting wordplay. The follow up second single, "Fame," a head nodder featuring Styles P., is slated to be released on July 2nd. U-God will then give fans a glimpse into his life as he chronicles his dark past on a third single, "Skyscraper," that's due to debut on July 16th.