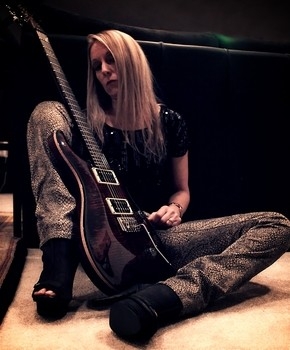 Hello everyone all over the world, it's a pleasure we meet again like this. Being that we are based in New England, I would like to welcome Tim Tebow to the area. Before we begin I want to speak on a report on TMZ that said, "for every BMI song that gets played on a bar jukebox or by a DJ without the proper fee being paid, BMI is entitled to $150,000 in damages." I understand copyrights are being abused but to put a bar out of business seems excessive. What do you think? I was excited all weekend to post my interview with Lisa Lim today. Lisa engulfs everything I look for in a female guiatrist & singer/songwriter as she is strong, talented, passionate, and beautiful. Lisa is celebrating as she releases her self titled album and music video for "Superstitious Mind." I heard the album on Soundcloud and its raw, real, and all Lisa. Join us as Lisa speaks on everything from the new album, learning the guitar at a young age, endorsement deals, and so much more!
Stoli: Where are we talking from today and how is your day going so far?
 
I am currently in VA. and my day is going great!
Stoli: I am praying that the IRS will have to shut down due to such negligence. Am I delusional or could it happen?
Doubtful the IRS will ever shut down. Being a self employed musician, I know all too well, that paying taxes, are just the facts of life.  
Stoli: At what age did you take up the guitar and how much did your family support your passion for music?
I picked up the guitar at age 10. I started piano at age 7. My father brought home a beat up acoustic guitar he had probably found at a thrift or pawn store. He knew how much I wanted to learn how to play. He was very supportive in my musical endeavors. He passed away when I was 12 years old from colon cancer. He was diagnosed just a month and a half before his death. So, my mom rallied on, taking me to my music lessons. My mother attended my piano recitals. She would only come to outdoor performances when I was playing guitar. No bars for her. My dad really only got to see me play once at a piano recital. He never got to see me on stage playing guitar. My grandparents, aunts and uncles were very enthusiastic about my passion for music. But, I am the only one in the family that has pursued music for a living and plays.
Stoli: I have been listening to your self titled new CD and I love it. Offer us insight into how long you were working on the album and where did you record it?
I worked on putting together this material and recording for about a year. I recorded at my producer's studio, Thomas Johansen, in Herndon, Va.
"Superstitious Mind"
http://youtu.be/Y3REthCDRpU
Stoli: What other musicians did you bring on to offer their talents on the album and how did you find them?
 
Thomas Johansen produced & mixed the album, plus did all of the B Hammond Organ, Rhodes piano, programming, Moog, Harmonica, some percussion and backing vocals on the twelve tracks. Scott Rabino layed the drum tracks. Andreas Holmstrom layed all of the bass guitar tracks. Mary Shaver, Tara Jacobs & Pauline Anson Dross layed some beautiful backing vocals throughout the tracks.
I met Thomas Johansen through a mutual friend a few years ago. We had kept in contact and he started performing in my band, Lisa Lim Band, playing keys about a year prior to this recording. I met Scott Rabino working in another project I play in, "Over The Limit Band". He was very interested in the material I was doing in Lisa Lim Band and started performing with me in that project as well. I met Andreas Holmstrom through my drummer Scott. Andreas has done alot of studio work and plays consistently in the D.C. music scene. He was the perfect fit for this project. Mary Shaver is a powerhouse blues vocalist in the D.C. area. Mary and I have worked together in various projects over the previous years and our voices blend really well together. She was very enthusiastic about contributing backing vocals on this cd. Tara Jacobs and I have known each other for many years. We worked in an female rock band many years ago together and had just recently reconnected. She really added a nice touch with her backing vocals to the cd. Pauline Anson Dross and I have know each other for several years. She plays guitar and sings lead vocals in an all female band, Wicked Jezabel in the D.C. area. She has asked me on occasion to fill in on guitar and bass when needed. She was very enthusiastic about what I was doing with the new recording and stepped in and nailed the backing vocal tracks.
Stoli: The album has 12 songs on it. How many songs did you have to choose from and how did you decide on 12?
Yes, 12 tracks are on this new release! I actually had about 16 plus songs to choose from for the making of this new release. My producer Thomas and I sat down and decided what we felt were the strongest out of the material and it came down to these 12 songs.
Stoli: How have you matured as an artist & songwriter over the 6 years in between your debut album and this album?
I've matured in every area as an artist, performer, songwriter, guitarist, vocalist and as an overall musician. I've been performing nonstop throughout this time in typically at least 3 projects and freelancing. With that said, I've gotten to work with some amazingly gifted musicians. You can't help but grow as a player when you're put in that position. I guess it's all in your attitude. My approach has always been, there's always something new to learn and I have wanted to continue to grow and expand musically over the years. My songwriting has improved tremendously. Songwriters that I have huge respect for, I've found myself analyzing and studying their tunes, formulas. Taking notice of clever hooks, etc. Vocally, I've digged in and really tapped into the power and being more mindful of each song determining the most complementing key that works for me. As a guitarist, I've been exposed and continue to be exposed to so much cool and exciting players on the scene. I pay attention and also do alot of wood shedding!
Stoli: I love your video for "Superstitious Mind". Who came up with the concept and what's up with you singing in the mirror?
I actually came up with the story line. There's a line in the song, "break a mirror, seven years bad luck." Well, initially I had entertained breaking a mirror with a guitar. That quickly changed! Cause, well, call me superstitious! Bu,t lets face it, I don't need seven years of bad luck at this juncture in my life! LOL! So, actually the location we did most of the indoor footage had a huge mirror and we started playing around with using that as a prop. And as you can see, it ended up being used quite a bit in the video!
Stoli: I have a 4 year old that loves music. At what age would you say that a child can really begin to learn to play and what did music offer you personally as a child?
I've actually taught 4 year olds how to play guitar and piano. It really comes down to their attention span. If you can hold their attention for at least 30 minutes and most importantly they have an interest, enthusiasm, that's half the battle right there.
Music for me, personally, was a release. It got me through some really good and really tough times in my life. When my father passed, I really turned to music for comfort and dealing with my grief. It's alot for a 12 year old girl to process losing a parent so abruptly. I wanted to play music from as far back as I can recall. My father would literally have to pry me away from the piano. I played all the time. It was and has continued to be a healthy outlet. I lost my mother recently and my paternal grandmother. I was very close to both of them. Music truly has healing abilities.
Stoli: Name 2-3 female guitarists that you respect and listen to their music?
There are so many amazing female guitarists on the scene today! Female guitarists to date, that I listen to on a regular basis. Bonnie Raitt, Sue Foley and Ana Popovic.
Stoli: You have many endorsements that back you. What does that affiliations do for your music career and what do you offer them?
I am very blessed to have several endorsements. Each endorsement company is awesome! They are so supportive of all of their artists who are working and making a living playing music and using their gear onstage and in the studio on a constant basis. It's really about embracing each other. You supporting and plugging their product and they return the appreciation by promoting you as well. I think it also helps that artists give feedback about the product to the company and that enables them to continue to improve and expand upon their product line. And with an artist using their gear on a regular basis, new players are constantly getting turned on to the product. Each company I have endorsements with are really good to me and their product absolutely rocks!  
Stoli: For my readers that are new to Lisa Lim what can they expect from buying this new self titled album?
Great question! This new album will take them on a journey. They will experience and hear a combination of rock, blues, roots & punk! It's a new and unique sound. I feel that each track, they will be able to relate to, in their own way. The music will give them adrenaline and will also soothe their soul.
Stoli: What is coming up for Lisa Lim and where you and the album @ online?
 
I am keeping busy with a full schedule of performance dates. Also, promoting this new release and continuing to write new material. Much more to come!
You can checkout my website: www.lisalimmusic.com to purchase my new release and other merchandise I currently have avail.
Also, you can checkout CDbaby and download my music at www.cdbaby.com/lisalim2