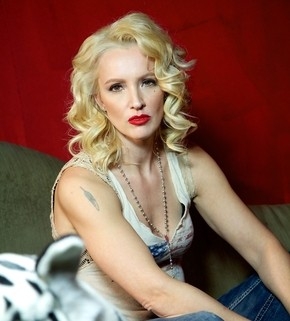 As a multi instrumentalist, producer and prolific songwriter, Salme is a musical triple threat. Just like previous releases, the new album is written and produced in its entirety by Salme. Showing her versatility, Salme takes you on a journey through various styles of electronic music on the 3 Volumes of Pop Propaganda.
Volume 1, subtitled "Bang" (release date June 7 2013) contains 4 songs + a 1 bonus track worth of dirty rhythms and catchy hooks all set to cutting edge electro beats.
The first song and single Sexy Punk is a sultry electro pop romp with Jagger-esque attitude. On Talented Girl Salme mixes vintage with cutting edge by bringing in a 4-piece horn section that adds a ragtime vibe to her heavy electronic beat. 5 Hot Party Boys pays homage to early Prince; funky guitars and tongue in cheek lyrics bring this twist on a classic nursery rhyme (5 Little Monkeys) alive. Let's Get To It, written after Salme read Pamela De Barres tales of her adventures in groupie land, is a definite party starter. The bonus track, Yeah x 3 is by no means a filler. A big, catchy chorus will keep on the floor, dancing the night away to this funky beat yelling "Yeah, yeah, yeah…" at the top of your lungs.