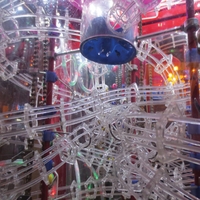 A longtime fixture in his hometown's music scene, Denver native Mike Colin is now releasing Crystal Cage: a ten-track album of alt rock with experimental tendencies.
The track "Stepping Stones" is largely founded on an engaging guitar riff with high-distortion.
"Let the Good Get Even" is a fine title for a song dealing with people being screwed out of their hard-earned life savings:
"But somewhere along the way / Financial pirates took control, and your pension went away."
Come to think of it, in recent time I am hard-pressed to think of a song that deals with falling victim to corporate swindlers. Kudos to Mr. Colin for addressing this widespread injustice. It's a lyrical genre that needs a voice. All you defrauded of the world, unite!
I'm not a very political animal, but as Colin hollers out, "Don't you work for that money now!", I feel this urge to join my fellow 99% brothers in the Occupy Movement. Where are they these days?
"A Time for Us" begins with this high-pitched guitar ditty. Reggae-esque, it's a very playful melody. I dig Colin's vocals on this track. They're almost hypnotic at times. Am also a fan of the background synthesizers.  
"Taking It Out On The Wrong People" is a cleanly-rendered acoustic track. Though the title may sound pessimistic, the lyrics are actually uplifting.
"Orange Rind" is different. The vocals are a bit of a trip. Colin sometimes sings staccato-like. Acoustic guitar is at the forefront, but there's an occasional bit of guttural, ultra-distorted electric.
"The River of Sound" also features some experimentation. Notes from all over the spectrum snap and jingle across your perception. About 60% of the way through, things get a lot heavier and more dramatic. It's almost as if you were sitting in on a Kirk Hammett and James Hetfield jam session. Not a lyric is uttered, as — living up to its title — the track is a pure "river of sound." Am especially a fan of the song's latter part.
"Being There" sounds kinda like a throwback to 80s British alt rock.
"I 4get" offers a cool, grimy hard rock guitar riff.
Suffice it to say, Crystal Cage offers sonic variety for sure.
The album will be available on iTunes, Amazon, and CD Baby come May 28.
Until then, you can whet your appetite at: http://www.reverbnation.com/MikeColin
Or indulge your visual senses at: http://www.youtube.com/MikeColin5280
 
Ray Cavanaugh – owleyesgatsby@yahoo.com