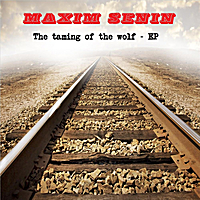 Having relocated from Latvia to Long Beach CA, Maxim Senin is a software engineer who took a break from all his coding to put forth his debut EP The Taming Of The Wolf.
Every perceivable sound here is made by Senin, who plays the acoustic guitar, piano, ukulele, harmonica, keyboard, and all percussions.
Though he strives to balance artistic integrity with commercial success, Senin may eventually have to overcome a performing obstacle, as he's "not a big fan of large crowds." However, he points out that, for now at least, his music is more geared "to be heard by people on their couches or in their cars, not 10,000-seat stadiums."
With the EP title track, the instrumental component might qualify as "easy-listening." The lyrics, however, are a slightly separate matter: "My friends and enemies all knew / I'd maul their throats if I had to…My friends would think I am a loon / When I'm howling at the moon."
Before getting too alarmed here, I should point out that the song is from the perspective of a "Grey Wolf," which I suppose shouldn't be too difficult to grasp, considering the EP's title.
"Sing to Me" aptly conveys the pathos of a "tin cup" musician longing for a far more successful female singer. Mr. Tin Cup wonders aloud: "Have I become a speck of dust / Lost in the universe of past?" Yeah, man, probably.
There's this instrument in the background with which I'm unfamiliar. Perhaps that's the ukulele Senin had mentioned.
The track "Do Your Worst" launches with an appealing acoustic guitar melody, which belies the embittered cynicism of the lyrics: "And I know, because I've been in love before / It's all a lie – I don't believe it anymore!" There does, however, seem to be something of a change of heart by the song's end, which almost becomes a tad playful.
Speaking of playful, take a listen to "Femme Fatale." There's quite a jesting, flirtatious air to this track. Almost makes me wanna find a young lady to "dance on [my] grave."
Come tame the wolf at: http://maximsenin.bandcamp.com/
Another stellar option:
https://itunes.apple.com/us/album/the-taming-of-the-wolf-ep/id486734590
 
Ray Cavanaugh – owleyesgatsby@yahoo.com