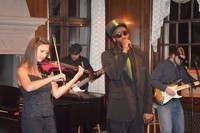 One might expect 6 piece Funk-Rock band from Maryland SOL to deliver music that could be categorized as somewhat dated. I mean this is 2013 and before I even listened to a single note of music from SOL that's honestly the impression I got. I expected them to be a kind of 70's Rare Earth, Three Dog Night throwback band. To sharpen my skepticism over the years I've heard my share of stuck in the 70's or 80's bands that just didn't get it. However there's a real sense of musical independence via this latest work entitled Senses.  
While everything here is shall I say exceptionally entertaining, and it all covers a pretty wide range of musical styles, a few tracks stand out from the rest for me. "Heavy Rain" is one of those songs that delivers pure groove magic. While the movement presents a straight forward hooky guitar, somehow this has a more of an organic feel as the track hits solid stride. This is definitely a modern example of classic psychedelic-rock popular in the 70's and early 80's. I can hear acts like Sister Hazel, O.A.R. Nine Days, and Jamiroquai. This style of music is not easy to pigeonhole, however I suspect many of the previously mentioned bands have had an influence. The musicianship from Jody Mosser, Michael Henne, Toussaint, Jessica Sammis, Rebecca Racusin, Evan Durr is off the chain and the vocal soul from Toussaint   is incredible. Another highlight is "People" It's got plenty of cool guitar riffing, bass playing that sits deep in the pocket but above all it shows just how far SOL   dares to venture into straight up Funk-Pop territory. Here they navigate with sheer precision as all players showcase their playing abilities well. They also do this in a way that's not to over the top or showboating.
URL: http://www.soulandjazzandfunk.com
BELOW AVERAGE/AVERAGE/ABOVE AVERAGE/GOOD/EXCELLENT/LEGENDARY
 
Somehow all the above is not compatible with the superficial times we live in. Senses by SOL is well-suited for audiences that enjoy jazz, rock, soul, rhythm and blues and even elements of pop. Expect great things from this band as their fanbase explodes. There's obviously a disgruntled audience out there just waiting for them to arrive. Well the wait is over — SOL is here.
Rating: 8/10 Stars
by Kelly Macina edited by Mindy McCall
Review comments: indiemindymccall@gmail.com