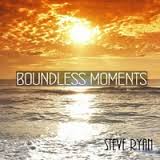 Inverting a quote from a 19th -century poet, Georgia native Steve Ryan is a "dreamer of music, and maker of dreams."
Picking up the piano as a child, then guitar & singing as a teen, he now draws on inspiration that enters his brain while dreaming or in full consciousness.
Boundless Moments is his second and most recent full-length album.
The opening track, "Real Time," is a quick-moving, uplifting piece, in which the speaker declares: "Inside a new light is shining / The old frustration is escaping from my mind."
"Your Stare" is a slower and romantic piece of R&B that would go well with a glass of smooth wine. This is definitely not a one-night stand kind of romance: "Because you are, a dream to me / I want to show you love, through eternity."
"Easier Said Than Done" has some splendid blues guitar, almost Clapton-esque. The song can change pace very quick, and maintains a vibrant spontaneity.  
"Real Time" – http://youtu.be/MMhUxQeYSvM
"Don't Tell Me" is an impassioned plea to a partner in a troubled romance: "Don't tell me that you want me / When you lie to me so endlessly." Instrumentally, there are some good rock hooks to this track, occurring both on piano and guitar. Oh my, around 2:25 Ryan's voice launches like a lovelorn rocket.
"Reach" is a cool tune that grooves on the funk side of R&B. For the speaker, problems exist, but so does hope: "You gotta keep on holding on…Just reach into your soul."
"Still in Love" captures Ryan at his romantic crooning best. Subtle background guitars provide a fine touch as well.
In "Pride With Humility," Ryan's vocals continually take a graceful flight. The lyrics bring their share of brotherly love: "Have faith in your community / We can overcome if we believe."
"Say It Ain't So" lives up to its name as the album's wistful track, for which Ryan harmonizes regret. Some engaging vocal experimentation occurs around 3:50.
The "Real Time" dance remix provides some pulsating funky bass lines.
The "Reach" dance remix offers a style very different from anything else on the album.
Boundless Memories is available on Amazon. Quite a few have already taken advantage:
iTunes is another option: https://itunes.apple.com/us/album/boundless-moments/id630791386
To learn more about Mr. Ryan, visit: www.steveryanonline.com
 
Ray Cavanaugh – owleyesgatsby@yahoo.com