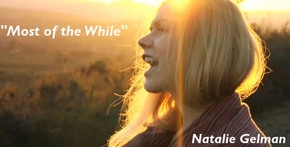 The video was shot in a very eco-friendly way with one camera in Los Padres National Park and in Ojai, CA, where Natalie currently resides. It was shot, directed and edited by Brent Florence with no other crew or hair/makeup involved.
http://www.youtube.com/watch?v=eU4GCIXoGjw
Born and raised in NYC, Natalie Gelman is an incredibly driven singer-songwriter whose new EP, Streetlamp Musician, was just released. She has been singing opera since she was young and took up writing and performing songs on subway platforms at the young age of sixteen. Earmilk places Natalie as "somewhere between Carole King and Sheryl Crow" and calls her voice "really damn powerful." She has toured relentlessly in major US cities and in Europe over the past six years, including one tour that involved traveling up the East Coast solely using roller blades for 48 days. She has attracted major media attention through The New York Times, Billboard Magazine, The New York Post as well as radio and TV morning shows. She has also performed at a number of festivals including the Virgin Mobile Freefest, Comic Con, and the Sundance Film Festival.