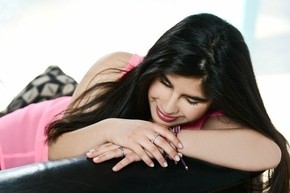 Toronto-based singer/songwriter Amanda Raya is not your typical angst-filled teenager. The visually-impaired fourteen year-old may not see the world the same as her peers, but her music shows a startling depth of vision. Amanda has been playing piano since the age of five and has recently added guitar to her repertoire. Learning by ear, she quickly mastered complex pieces and began composing original songs.
Amanda Raya – "Without No Doubt"
http://www.youtube.com/watch?v=clDfpTa7l-s
 
Tackling a topic far beyond her years, Amanda's debut single, "Without No Doubt," is a mildly melancholic, yet powerful, young female perspective on a break-up. The chorus pleads for the object of affection to tell her how he feels. Her unconventionally beautiful voice and catchy songwriting make this track easily relatable and inspires spontaneous sing-a-longs.