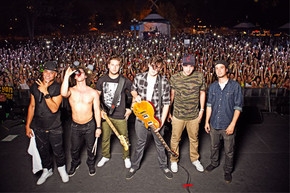 Platinum Canadian genre-bending outfit, Down With Webster has now released the official video for their latest single, "One In A Million." The video, which was directed by Aaron A (Nelly Furtado, mynameiskay), gives fans a look into the DWW live experience. The band spoke about it stating, "we wanted to create a video that captured what the Down With Webster live experience is all about: energy and movement. The idea was to take imagery that resonated with the emotion of the song, and by blasting it on a larger than life scale with the band rocking out, we could unify and magnify them both." Fans can check out the video now through the band's official YouTube page.
"One In A Million" Video Link:
http://youtu.be/JkgiG28Cniw
"One In A Million" is now available through iTunes and will be on the band's upcoming release due out later this year. To stay up to date on all things Down With Webster, make sure to check out their official Facebook and Twitter pages for updates and upcoming tour dates in the US.