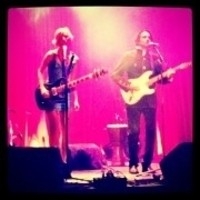 This is Automatik Eden's latest self titled debut EP release released in 2013. 2 core members include: Multi-talented Members, David Crocco and Cela Scott Developed the Band While Working behind the Scenes with Top Acts from Eminem and Beck to Incubus
Meet the Band: https://www.facebook.com/automatikeden
Label: Music Connection
Automatik Eden is one release that certainly doesn't disappoint. This is one band that brings to the table effective songwriting via a highly diversified sound. This meshed with a one in a highly exotic Indy-Electronica sound and effective visuals and vocals makes for a very effective combination. Couple this with a slam dunk live presentation and you have a winning ticket. Automatik Eden is just a breath away from 90's Alternative- Rock with sounds that will remind you of No Doubt, Hole, Ace of Base, Garbage, and Four Non-Blondes. However on the other side of the sonic spectrum I can hear a modern day influence of Pink, Pillow Fight Club, Hey Monday and A Fine Frenzy. A pretty diversified sound all around. A band like this could fit nicely into into Power Pop Rock but Automatik Eden skillfully and methodically never crosses into that musical realm. Instead they have meshed a skilful combination of each sound. All songs are wonderfully simple but masterful in their overall arrangements. Personally I see Automatik Eden as a cross between This is She and No Doubt but their sound goes beyond comparison. This EP is quite entertaining overall with an amazing vocal front from both Scott and Crocco. Despite the 2 pronged vocal approach I think the primary here is Scott. Scott has an effective voice and brings the sex appeal (visually and vocally). The lyrical content is straight from the heart as she offers a very strong and confident female perspective and spirit. The overall production value is Gold Standard thanks to impressive frequency selections courtesy of veteran Mixer Sean Beavan. All Engineering aspects are in check with solid low end punch and crystal clear high end clarity. Automatik Eden manages to capture some lightning is a bottle via all track.
My top Tracks are Citadel and Chimera.  
Listen to Automatik Eden —
LAST FM: http://www.last.fm/music/Automatik+Eden
Final Word: Automatik Eden have proven themselves with this latest release. They are clearly an up and coming talent around Southern California and both members are clearly capable musicians, singers and entertainers. I must admit Automatik Eden   sucked me in like a powerful drug and refused to let go long after the EP was over. This usually indicates he is something special about the artist or band in question. Thus deserving praise, recognition and musical fame at the international level.
Overall Rating: 4/5
by Drew Blackwell edited by Joshua Beach
Rreview comments: joshuabeach9@gmai.com