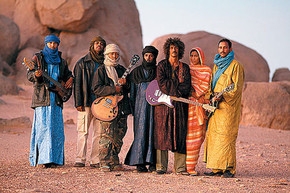 Travelers and music lovers from Israel and around the world will arrive in Kfar Hanokdim near the Dead Sea for the first-ever PlugFest music festival, May 9-11.
The PlugFest music festival will feature performances by a diverse array of international artists, including Azealia Banks (US), Lee Scratch Perry (Jamaica), Tinariwen (Mali), John Talabot (Spain) and 2ManyDJ's (Belgium), among others. The festival will also include concerts by a selection of Israel's leading indie music stars, including Terry Poison, Buttering Trio and Adi Ulmansky.
"The PlugFest is an exciting, homegrown musical event that will attract world-renowned artists to perform in Israel for the first time ever," said Haim Gutin, Israel Commissioner for Tourism, North and South America, "and which will take place amongst one of the country's most awe-inspiring landscapes, the Judean Desert."
The festival will also feature an "MTV Cinema," screening films and episodes from classic MTV television series, a specially designed radio station featuring live sets by Israel's leading DJ's and designated camping areas, restaurants and entertainment zones.
Photo: Tinariwen