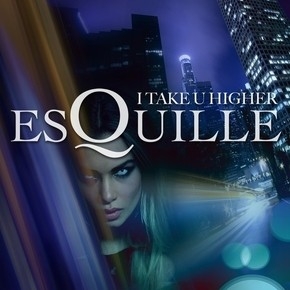 From Dreamland to Jam Planet, to A Trip in Trance, Swedish music master ESQUILLE has been behind songs that echoed 'round the planet, even selling 100,000 copies in Brazil. He took a break from the music industry, but now he returns with a renewed vigor. And so Skope caught up with him for a few questions.  
 
Must admit I'm a fan of the bass line for your track "Just 4 U." How do you go about creating such a bass line? Do you tinker around with a synthesizer? A certain kind of software?
I don't remember how I created the bass line, but it's a 100% Esquille bass line =) It feels very natural for me.   When I did the remix of "Just 4 U" not so long ago, I got to play it again. I didn't quantify into straight sixteenth, but let the left hand's groove come through. I wanted to find a similar sound to the one that I used in the original recording, and it took a while to find. I had to check through my modern synthesizers. "Just 4 U" was completely recorded with a Roland Juno-60 synthesizer (except for the drums of course).
 
The track "I Take U Higher" is a long way from your initial genre of soul & funk. Have you completely forsaken your roots?
Hee, hee no. I'm a multi-genre producer and always have funk and soul inside of me, even if it doesn't sound that way on "I Take U Higher". I think that the success of "I Take U Higher" actually is because I mixed an "old sound" with a modern sound. Besides, I have a bunch of new songs that have more groove in them.
 
That gal at the beginning of your YouTube for "I Take U Higher" is pretty hot. Where'd you find her? She Swedish?
Yeah, she's real hot and she's Swedish! Mikael Eriksson, the video director, has worked with her before and he thought that she would fit as the actress in the video. She creates the stressed, modern person perfectly!
 
Is that Stockholm in the video's background?
No, most of it is from Kuala Lumpur, but there are a number of Stockholm scenes if you watch closely.
 
Did you contribute the vocal component to the track?
No, the voice that says "I take you higher" is a sample from my sound library. I thought about recording it myself but it never happened.
 
You speak of "pure Nordic trance." Sounds rather exotic. Could you describe it for me?
ATIT 1 & 2 (A Trip in Trance 1 & 2) was a unique sound. The artists who participated come from all over Sweden. The coolest songs come from some artists deep in the woods up north in Lapland. If you get the chance you should listen! ATIT 3 wasn't as good, there were a lot of artists who wanted to join in who tapped me on the shoulder. There were many who thought that the CD should have a more usual trance sound.
The project became too expensive and I let myself be convinced that a German DJ should mix the album. He demanded vinyl pressing of all of the songs.
 
You mention closing your studio in 2004, in conjunction with how illegal downloads had ravaged the music industry. So was music piracy what led you to live a "normal life" for a while?
Yes, it was obviously a part of my decision to stop. Sweden was a pioneer in broadband technology and it was possible to get and download everything unchecked. People grabbed candy from the bag that was open for everyone. It was difficult to sell "real records" and consequently to earn money.
 
To my knowledge, music piracy hasn't much declined since 2004. Yet here you are, returning to the industry. Do you simply no longer care anymore about piracy?
I have just really missed sitting and creating songs! I've understood that my purpose in life is to write and work with music. Illegal file sharing and the belief that music is public property will always remain to a certain extent.
But I think a lot has happened that makes it easier to buy music online. When I shut down there was nowhere to buy music on the Net. Today a song costs next to nothing and I can say just one thing and that is, if you like it, buy it. Think about the energy the artist/producer/band put in for you to be able to enjoy and feel good from what you listen to.
Digital technology has created fantastic opportunities for the artist as well. It used to be a long process to release a record, a lot of unnecessary waiting and the distributors who didn't do their job. Think about how quickly you can release a song today. Of course there is more competition than ever and more songs are released than ever before, but I still think that everything has become better.
http://www.facebook.com/DJESQUILLE
http://www.reverbnation.com/esquille
 
Ray Cavanaugh – owleyesgatsby@yahoo.com