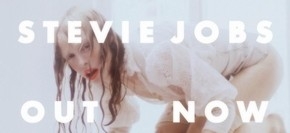 P E T I T E is a singer-songwriter, producing Nuvo-Jazzy pop in French and English. Leading it with angelic childlike vocals, oddly enough compared to a post-modern Mia Farrow with a Brigitte Bardot allure.
 
P E T I T E co-founded the band Terry Poison, performing worldwide, releasing such singles as "Comme Ci Comme Ca". The band opened for Depeche Mode and played in various festivals such as SXSW, CMJ and Rock en Seine. As a solo artist, P E T I T E has opened for such acts as MARK RONSON, THE HURTS and UFFIE.  
"Stevie Jobs"
www.youtube.com/watch?v=WIjFQ8R4GQM&hd
P E T I T E's new seductive video was directed by A.T. Mann and J. Bolandi, it features Petite riding a massive computer mouse and Brooklyn-born dance-rapper Shamel Pitts dancing on a giant keyboard.