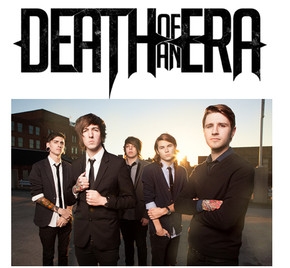 Death metal band, Death of an Era is the latest addition to join the Artery Recordings, the joint venture between The Artery Foundation and Razor & Tie.   The Columbus, OH based band will release their debut EP, The Great Commonwealth EP on May 21st.   The Great Commonwealth EP was produced by Kevin Lankford.
[youtube rbvLZuGcxOQ]
http://www.youtube.com/watch?v=rbvLZuGcxOQ
Death of an Era formed in 2012. After a year supporting their self-released Reviler EP, this collective of high school friends had risen out of the Ohio underground and into the national spotlight. Alternative Press featured them in AP&R, and they carved out a rabid core of fans through relentless touring and an incomparable sound.   Confronting everything from child abuse and   drug addiction to deceit and bullying head-on, the group–Daniel Simpson [vocals], Nathan Stewart [guitar], Dustin Colling [guitar], and brothers Chris [bass] and Michael Cooper [drums]–offer catharsis in the face of chaos.