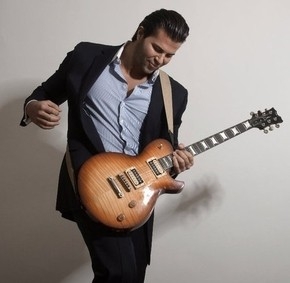 Wow, we just cannot get out of this 2013 winter, snowing again! Before we begin I just want to mention that the Roku has become a favorite of mine for my music listening. Roku offers all the music streaming like Pandora & iheartradio. It also has all my purchased music through Amazon MP3. I would say my streaming to buying ratio is now 50/50, very cool! My guest today is in  Jersey so I know he is snowed in too. Matthew Schultz could not have chose a better time to be on Skope as his hot single "Money or Me" now has a remix with Jim Jones. Matt has been talking about this collab for a minute and it's nice to see the final result. To make it in music you need to be of your word, and Matt is for sure. Join us today as we speak on the economy, Matt's other ventures, gold diggers, and much more!
Stoli: Where are we talking from today and how is 2013 shaping up for you so far?
I am at my home in New Jersey, and 2013 in shaping up to be a great year thus far. I have a lot of new exciting projects in the works. I just released a remix of "Money Or Me" with Jim Jones and I did a cover shoot for "Social Lifestyle" magazine which was a lot of fun! My song "Money Or Me" was picked up for a mixtape hosted by Kendrick Lamar and another one hosted by Mac Miller.   I will also be recording a song with Driicky Graham soon! I was selected by PDS Entertainment as the "Hottest New Artist of 2013" and my new EP's were placed in the lavish gift bags for the nominees for the 55th annual Grammy Awards. All very exciting stuff!
Stoli: These days there is no positive economic news globally and it looks to get worse. Does this effect you at all as a musician and your movement?
Of course the economy affects everyone, which is why I try to release the best music I can so people feel they get their money's worth.   I feel that music has always been the best outlet for everything.   Most people enjoy music when they find they can relate and put their real life experiences into the lyrics of the song or the opposite so they can escape their current emotional state for a while. I feel that music will be around forever and will always help people get through tough times and help celebrate the great times!
Stoli: At what point in life did you begin to pursue music as a career and what made you use your real name instead of an alias?
I was always involved in music from a young age playing the guitar and writing songs.   My career diverted into the financial industry shortly after college.   I just started to recently focus on my own solo project. I wanted to use my own name because I feel that if I do make a mark in the industry it would be wonderful to have it linked to my own name.
Stoli: You do so much more besides music. Please talk about your other ventures that you are involved with and how you juggle it all?
I am also an actor, model, and most importantly the Vice President of business development at Residential Finance.   It is very hard taking on the daunting task of being an executive at a major company as well as perusing a career in music.   I am currently unsigned so I have to handle the artist portion of creating new music and the back end of the business side that normally a Label would handle.   It is a lot of late nights and espresso's to say the least, but I look at it as a hobby and a healthy outlet for me.
[youtube Se5b7e8a8JQ]
Stoli: I love how you are a VP at a major bank, how does what you learn from finance & investing help you promote & push your music if at all?
It helps greatly.   I have learned so much about business and strategy from my banking position.   I feel that it helped meet my overall budget expectations and has allowed me to make sound business decisions overall.   I work alongside my friend and partner, Barry Habib, whom is also the producer of the hit Broadway play "Rock of Ages." He is an inspiration to me and I look up to him for his wisdom and guidance in being a renaissance man.
Stoli: I am really feeling your song "Money or Me." Please offer us some insight into what inspired you write that song and is that real life drama?
Haha…I guess you can say that I have dated some women before that I felt were with me for the wrong reasons! I just feel overall that when you hit a certain age in life whether you are a man or a woman and you are successful, it becomes hard to tell if the person is in love with you or just in love with your situation. "If I got money she loves me, If I am broke she don't."
Stoli: I see you all over social media. What site or sites do you feel help you retain & make new fans?
I feel that Reverbnation has really helped in creating a strong digital footprint for me. I have received a great deal of love from fans on there.   On Reverbnation I am ranked #1 in my genre in the United States and #2 in the world. Facebook and Twitter have played a major role as well.
Stoli: Being from NYC what is a typical good night for you and where do you go to hear live music and get loose?
For great live music I love to go to "The Bitter End".   It is such a great place where so many major artists got their start. It has such a nostalgic feel and I love it! Otherwise, I love to just go out and have a nice dinner, enjoy a great wine, and unwind.
Stoli: Being in the fast paced lifestyle you lead, do you ever want to settle down and have a family?
Absolutely. I would love to settled down in the next few years and start a family. That is very important for me.   I came from such a loving family and I want to try to create the same type of household.   I admire my Dad whom has passed away; he was such a great father to me.
Stoli: What do you love about music besides the fortune & fame?
What else is there? Just kidding.   I love it most when fans reach out to me with positive feedback and I know that my music has touched them in some way. I also love being able to work with other amazing artists that I am an actual fan of, it feels surreal.
Stoli: What is coming up for Matthew Schultz and where you @ online?
I am going to keep reaching for the stars until I become one! I have a lot of projects coming out in 2013, my Publicist, Michelle "Chella" Magee, will keep everyone up to date on what is going on. You can find me online at
http://www.matthewschultzmusic.com
https://www.facebook.com/matthewbschultz
https://twitter.com/mschultz33
http://www.reverbnation.com/matthewschultzofficial