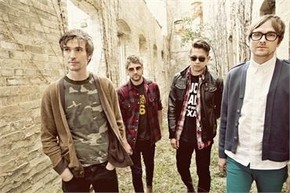 Sometimes, success comes easy. Other times, you have to grab life by the collar and make it happen. For San Antonio's Wild Party, both could not be more true.
The indie power-pop quartet will release their first official EP, All Nighter, this May. Although this is their first "official" release, early indicators of success have already shown off Wild Party's huge commercial potential.
[youtube ZN_A-lVsHEY]
Wild Party, made up of vocalist Lincoln Kreifels, guitarist Lucas Hughes, bassist (and Lincoln's older brother) Jake Kreifels, and drummer Ethan Kaufmann are still a young band, but they have already been around the block and across the pond.