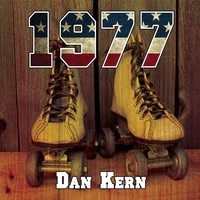 Influences run the gamut from nuanced subtlety to worn-on-the-sleeve emulation. For SoCal by way of NOLA singer/songwriter Dan Kern, he is unabashed about his early exposure to mainstream radio and the affectation it had on his personal musical tastes. As evidenced on his new full-length, 1977, the 10-tracks contain facets of radio Pop sentimentality, Southern and Classic Rock nods and veins of early 90s Indie. The anecdotal nature of his lyrical matter and a raw approach to record making has yielded a respectable first outing for the artist.
Opening to the jangle electric of "Cold Wind" a slightly country fried swagger is the first impression. Lyrics and electric lead the track with backing Hammond-esque organ laying a soulful undercurrent to this mid tempo rocker. Another standout facet is this is the first introduction to Kern's unique vocal range. "Quietly" pops with radio-friendly melody a la acoustic strum work over stripped down percussion and backing bongo work. "Wedding Day" features more jangle electric work at the intro before the pure Pop sentimentality takes over. The anecdotal lyrical matter shows a breadth of honesty and maturity to his songwriting ability and this one could clearly make the first single. "More & Better" opens to more acoustic melodic strums just behind a vocal delivery that is reminiscent of a long lost Barenaked Ladies track. Again the Pop sentiment shines through on this one. Harmonized a cappella vocals open "Hurry" a la vintage Eagles. This gives to urgent percussion work bolstering the bent Blues electric notes that carry through the entirety of what plays out like a Southern Rock meets Country track. "Kat Corbett" opens to dour and soaring electric work on this down tempo rocker. Dirty distorted guitar fuzz leads this one as it plods along through the anecdotal lyrical matter about a chance encounter with a L.A. Rock radio personality.
http://www.emusic.com/album/-/-/13945081/
Again, the influences are rife on 1977 and unabashedly so; in that Kern leans on his musical memories in making these tracks come to life. Production is tight, the musicality intact and the versatility is there reminding the listener that Kern has had the appropriate amount of time with these songs and has given them due diligence. Redundancy aside, this is a respectable first outing.      
Rating: 3/5
Christopher West – cwestlaz@gmail.com