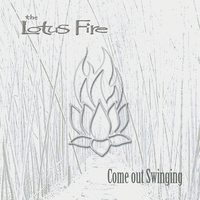 Drawing on exotic and sophisticated influences, The Lotus Fire lives up to their new album Come Out Swinging. That the musicians are classically trained is no surprise; The Lotus Fire provides a continuous stream of supreme sonic craftsmanship. They have performed across the western world at festivals, resorts, and casinos. Personally, I would say that a festival is the most appropriate Lotus Fire venue.  
"Crazy Lady" has a slightly frantic pace, giving credence to the "crazy" factor. The vocals alternate between English and a language that I suspect is French. It soon becomes apparent that the band is neck deep in its own musical virtuosity. Arielleh McManus has a voice that can range across nations and centuries.
[youtube qLgkJlIanbs]
Bringing an exotic flair, "The Dance of the Wicked" sounds like some gypsy magic one might encounter on a Venetian gondola. Acoustic instruments are played at a pace and skill that would be difficult even for an electric instrument (people with even a moderate amount of experience will understand how impressive this is).
In "For Sephora," both music and lyrics gyrate in verve and swagger.
"Bon Appetite" has more of a brooding, rock n' roll edge. I suspect I even heard an electric guitar — with distortion! The speaker knows what she wants, and lays down the rules accordingly:
"Now, baby, I won't treat you mean / But I assure you I don't cook or clean / in my boudoir is where I'm supreme."
Fair enough, young lady.  
The vocals can become highly emphatic, but they are so harmonically precise, that the speaker always seems to retain the utmost control.
[youtube WLtARqvgF0g]
"But when I'm hungry…it's you I want to eat."
And now I understand why the song's called "Bon Appetite." Very decadent. Very Valentine's Day.
The song "Sing for Me" is more haunting than sultry.
"Release" gets off to a quick start. Shivering, quivering, shaking, quaking…indeed the speaker is seeking "release."
"So Tired" is a title that caught me by surprise. The album has been so kinetic and passionate. Perhaps all the ardor and revelry finally caught up with everyone.
"And the only show left to see / Will be / My ass walkin' out that door."
The instrumental component then embarks on an orgiastic journey. Four minutes in, there arrives this Carlos Santana type guitar solo. A delectable morsel.
Clocking in at over 10 minutes, "Diferente / Libertango" may not be radio-friendly, but it's a quasi-opera. The final part is especially recommended.
"Amor" might best display the varied and eloquent layers of Ms. McManus' voice.
Aside from showcasing obvious talent, The Lotus Fire can stir up quite the carnival atmosphere.
Bear witness at: http://www.worldgypsymusic.com/#!music/c4fg
Ray Cavanaugh – sentbygatsby@gmail.com