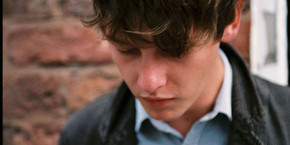 Now Ryder-Jones has completed his new album 'A Bad Wind Blows In My Heart', which marries his masterful capacities as arranger and composer with his first firm steps as a singer songwriter. Warmly melodic, majestically textured and bravely intimate, 'A Bad Wind Blows In My Heart' confirms the talent which has been recognised by admirers and collaborators, Alex Turner, Graham Coxon and Noel Gallagher.   Bill Ryder-Jones is a songwriter and musician who has quietly been staking his claim as one of the generation's most gifted for over a decade.
[youtube bKF-g_tnrn8]
'He Took You In His Arms' is the first track to be shared from the forthcoming his new album A Bad Wind Blows In My Heart. It was shot across a number of locations important to the album's conception – his teenage bedroom frozen in time at his Mother's house still complete with 90's Liverpool FC paraphernalia, the beach at the end of her road, the famous ferry across Liverpool's Mersey River and the streets, houses and pubs that colour Ryder-Jones' life each day.