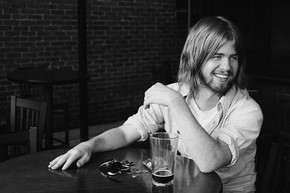 Andrew Leahey & The Homestead's Summer Sleeves is the sound of the modern South: its cities, its open spaces, and everywhere in between. The Nashville-based Leahey recorded the songs with the Homestead, a group of childhood friends and Virginia-based musicians who added organ, harmonized guitar riffs, pedal steel, and three-part harmonies to the mix.
[youtube zt4cZ6dbSRo]
Mixed by David Barbe (Drive-By Truckers, REM, Son Volt), Summer Sleeves is co-produced by Leahey, guitarist Phil Heesen III and local musician JL Hodges, Summer Sleeves was recorded in several days at a friend's home studio, with the Homestead nailing most of their parts in two or three takes. The EP's debut single Little In Love is available for free download via https://soundcloud.com/andrewcleahey.