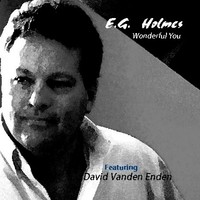 About the Artists: This is Holmes' latest release. Researching his bio these 2 have managed to   Incorporate elements of Traditional Pop, Jazz, Blues, and Classical Rock in a thoughtful new Adult Contemporary album, E.G. Holmes – Wonderful You is a sexy and edgy compilation with alternating light heart-ed and intense subject matters coupled with hints of Big Band.
URL's – http://www.eg-holmes.com/
http://www.myspace.com/elijahlucian/music/songs/david-vanden-enden-myla-lepop-73648911
Review: Wonderful You is one release that certainly doesn't disappoint. These 2 artists bring to the table effective songwriting via a highly emotional musical and vocal delivery. This meshed with a one in a million Big Band Pop sound makes for a very effective combination no doubt. These 2 are just a breath away from Modern Poppy Jazz or Vocal Jazz but skillfully and methodically never cross into that realm. The end result is a superlative musical statement that has hints of the above musical flavors. All songs are wonderfully simple but masterful in their overall arrangements. Music reminded me of a cross between Ray LaMontagne, Amos Lee, classic Eric Carmen and Joe Purdy. This CD is quite entertaining overall with an amazing vocal front of Enden who with E.G. Homes at the helm is a musical triple threat in my mind.   Together thay combine world class songwriting. Top Flight vocals; Enden has an amazing voice and a likeable appeal (visually and vocally). Finally an emotionally gripping delivery. The lyrical content is straight from the heart and offers a very strong and confident soul searcher perspective and spirit. No doubt many females will fall for this dynamic duo.   All song do exactly what they are meant to do via well-crafted movements and top tiered musicianship. The overall production value is superb with a crystal clear sound quality.
Top Tracks: Pills and Chardonnay, Hot Blooded for You, Mysterious
Criticism: I'm not a big fan of the cover art concept to be honest. Ironically it lacks creativity and is a poor representation of both the artist and the music. The collaboration will keep some off balance. Case in point I thought Holmes was singing the songs then I read the liner notes and realized that was not the case.
Song Samples from Thankful @ CD UNIVERSE:
http://www.cduniverse.com/search/xx/music/artist/E.G.Holmes/a/albums.htm
Conclusion: E.G. Holmes has proven himself with this latest release. He is clearly an established, behind the scenes talent around New York and all band members these 2 up are clearly capable musicians. I must admit "Wonderful You " sucked me in like a powerful drug and refused to let go long after the CD was over. This usually indicates he is something special about the artist or band in question. Thus deserving praise, recognition and musical fame at the international level.
4.5 out of 5 stars
Drew Blackwell edited by Joshua Beach
Review comments: joshuabeach9@gmail.com